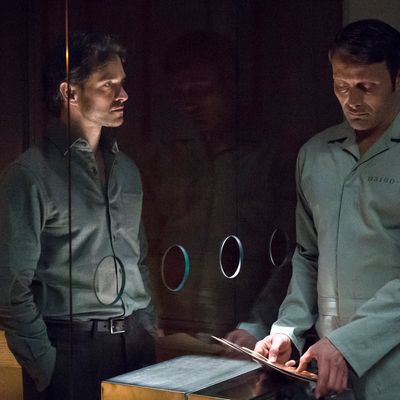 HANNIBAL – "…and the Woman Clothed in the Sun" Episode 310 – Pictured: (l-r) Hugh Dancy as will Graham, Mads Mikkelsen as Hannibal Lecter – (Photo by: Brooke Palmer/NBC)
Photo: NBC
Francis Dolarhyde rears his head and furls his mouth. He roars into the spindly shards of mirror, that old familiar broken face glaring back at him. The exploded id of his bedroom seems to be enclosing; the slanted, sickly-colored walls could collapse and crush him at any moment. He puckers, parts his lips, mouths out inaudible sounds, as if something is about to rip its way out of his face.
Francis is practicing his speech, rehearsing for his next performance. This is the extent to which Francis must go to feign normality.
He breaks into Hannibal's office. Plastic sheets cover the furniture, everything in its right place. The office has become a mausoleum inhabited by the ghosts of Dr. Lecter's unorthodox methods. Francis sets up his laptop (apparently he's technologically deft) and calls the hospital in which Hannibal is being held, claiming to be Hannibal's lawyer. When Hannibal picks up the phone, Francis staggers back into his clipped manner of speaking. This is the conversation that ended the last episode, though now we see it from Francis's perspective. Francis visualizes the conversation as if it's happening in the room, as if Francis is one of Dr. Lecter's patients proper. They sit as Will and Hannibal used to sit, physically opposite and internally adjacent from each other. In his mind's eye, Francis has no stutter, no speech impediment. He watches himself apprehensively, looking repulsed by what he sees. Francis feels the media — ugh, the media — has treated Hannibal unfairly, those seedy tabloid headlines serving a nefarious and dishonest purpose. They've both been mistreated by the press, particularly Freddy Lounds. She'll get hers soon enough.
While adequately crafted and replete with keen performances, particularly Richard Armitage's tortured turn as Dolarhyde, "And the Woman Clothed in Sun" is probably the least memorable episode of the season. Not much happens, and what does happen is rendered forgettable by director Guillermo Navarro, who helmed "Contorno," my least favorite episode of the season so far. Writer Don Mancini, writer and creator of the Child's Play series (he also penned the fantastic episode "Dolce"), has a gleefully perverse sense of humor that fits Hannibal like a blood-splattered glove, but Navarro lacks a distinctive style and can't seem to imbue any mystery or meaning into his imagery. And there are a handful of scenes that should've been chilling in this episode.
One of Hannibal's former confidants, Bedelia, a.k.a. Lydia Fell, speaks about her "journey to damnation" to a packed house. She's turned her tragedy into a commodity. "Before Dante we spoke not of the gates of Hell, but of the mouth of Hell," she says. Will Graham approaches her and throws some serious shade:
"You didn't lose yourself in Hannibal," he says. "You crawled so far up his ass you couldn't be bothered."
Don Mancini for the win.
Will wants to know how she escaped unscathed when he'll forever bear the scars of Hannibal's rough love. He was seduced by a monstrous man, but she hitched her star to a monster. Bedelia's transmogrification into a villainess only works because Gillian Anderson makes her a sultry-sexy-scary character, whispering threats in that calm voice that wraps around you like a velvet noose.
"We have something to discuss," Will says.
But she turns promptly and leaves him: "You'll have to make an appointment."
While Bedelia becomes increasingly cryptic and guileful, Francis Dolarhyde is beginning to experience a normal life. He tells Reba there's a tiger having oral surgery at the zoo, and says, "If you want, you can touch it." Under most circumstances, a serial killer asking a blind woman if she wants to "touch it" might be a bit creepy, yet here it's disarmingly charming. Chalk that up to Armitage balancing sweet with sinister impeccably well.
Reba runs her hand through the tiger's fur. She asks Francis to describe what he sees: The animal lying pensively, its orange fur "so bright, it's almost bleeding into the air" around them. She tells him this was "an elegant gesture. Eloquent, too."
Eloquence: something for which Francis has forever pined and that has eluded him.
Reba makes them martinis. She calls Francis mysterious, says no one really knows him, and she runs her hand along his leg. The look on his face — he hasn't experience this kind of physical, sensual pleasure before.
He stands up and carries her into his bedroom. Hannibal has had its share of psychedelic sex scenes, but this one pales in comparison to the Dalí-esque enmeshment of flesh from "Dolce," or the disquieting dual sex scene between Hannibal and Alana and Will and Margot from last season. But give Francis credit, though: For someone who spends more time with dead people than living women, he seems to perform pretty well.
The next morning, Francis runs upstairs into his bedroom chamber. He stares into the mirror, into the Blake painting. He's coming undone, his human side and dragon side tearing apart.
Downstairs, Reba tells him, "I really had a terrific time."
"Me, too," he says.
Before he takes her home, he quickly looks upward, toward the ceiling, toward the painting. He furrows his brow. He almost looks scared.
In a scene that has been used in every version of the Red Dragon story, Hannibal asks to use the phone to call his lawyer. He twists open the mouth piece and plays around until the operator picks up.
"I don't have the use of my hands. Can you dial a number for me?"
He calls Dr. Chilton's office and asks for a home address so he can send a copy of Chilton's book.
"What's the name?" Chilton's secretary asks.
"Graham. Will Graham."
Will Graham is in Bedelia's office. Bedelia can't blame Hannibal for doing what evolution has engendered him to do. Will doesn't buy that:
"You lie a lot. Why do you do that?"
Bedelia, as undeniably under Hannibal's eternal influence as Will, corrects him using a phrase she's uttered before: "I obfuscate. Hannibal was never my patient."
Bedelia was never as intimately entwined with Hannibal, she opines. She's never visited him. She's seen enough of him. Will, on the other hand, can't stay away. He's visiting an old flame. He couldn't save Hannibal; can he save Francis?
We return to a flashback that first materialized in the season opener "Antipasto." The jittery young man named Neal (Zachary Quinto, who's had an admirable string of roles as ill-fated men in lurid TV shows) sits in Bedelia's office. He was referred to Dr. Du Maurier by Dr. Lecter, but Neal won't take his medicine. He says Dr. Lecter was using light therapy to befog and manipulate him. Dr. Du Maurier tells him he's delusional. "You're just as twisted as he is," Neal says. "This is why Scientologists hate psychiatry!"
Neil begins to choke on his own tongue. He falls backward, shattering Bedelia's glass table. Bedelia reaches into his mouth to clear his airway. But she doesn't stop at his mouth: She shoves her arm deeper, deeper, reaching into his core, and she rips out his tongue. It seems that Dr. Du Maurier has never been as innocent as we've been led to believe.
Francis heads to the Brooklyn Museum to see William Blake's The Great Red Dragon and the Woman Clothed With the Sun, which is held in a special case enveloped in a protective cover. The museum guide tells Francis that no reproduction of the painting, no matter how high-quality, can properly emulate the colors of Blake's exquisite water color, the savage sexuality and violent fervor of the Dragon's muscle-bound back. Francis knocks the woman out and proceeds to eat the painting.
"I have another visitor for the Red Dragon," another tour guide says, escorting Will into the room. Will sees a shoe in the corner of the elevator and slowly, carefully approaches. He comes face-to-face with Francis, who lifts Will up and throws him into a wall almost effortlessly. Francis takes off, leaving Will behind.