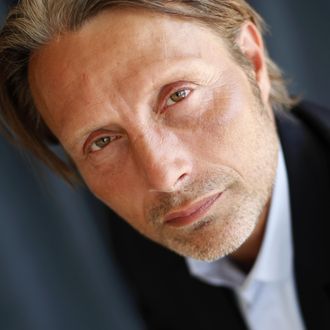 Dr. Lecter lives! Sort of.
Photo: Loic Venance/AFP/Getty Images
Dr. Lecter will live to eat again! Sort of. Variety reports that Mads Mikkelsen, who played the serial gourmand on NBC's recently departed Hannibal, is in early talks to play the villain in Marvel's Doctor Strange. He'll be joining a decidedly British cast that includes Tilda Swinton as the Ancient One, Chiwetel Ejiofor as Baron Mordo, and of course, Benedict Cumberbatch as the titular Doctor Strange. Clearly, his character is just mad that he doesn't get to be the one with a Ph.D. in this franchise.