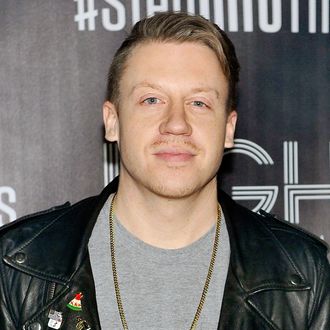 We see what you did there.
Photo: David Becker/Getty Images
Macklemore's first single from his upcoming album had him feeling the baby-daddy blues, but his latest, "Downtown," is all about keeping his cool. And by cool, we mean collaborating with rap forefathers Grandmaster Caz, Kool Moe Dee, and Melle Mel, along with Foxy Shazam's Eric Nally on the song's killer hook, in which he has the three East Coast legends paying homage to West Coast G-funk, because why not? There are cowbells, name-spelling, and references to Blackstreet. Think of it as a sequel to "Uptown Funk," in the opposite direction. Macklemore, Ryan Lewis, and the song's featured artists are expected to perform "Downtown" for the first time at the VMAs this Sunday.
Update: Here's Macklemore's joyous video for "Downtown," which also doubles as his Broadway audition. You're welcome.