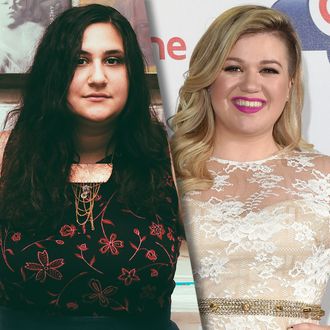 Photo: Chad Kamenshine, Getty Images
There's a certain thrill in hearing the most ubiquitous pop song reimagined in a totally different style, and there's no pop singer who knows this better than covers queen Kelly Clarkson. In the midst of a summer that brought us Clarkson's soulful takes on "Bitch Better Have My Money" and "Blank Space," we turn the tables with a delightful cover of her 2003 empowerment pop anthem "Miss Independent." This lo-fi psych-punk treatment by Palehound, a.k.a. promising Boston indie-rocker Ellen Kempner, really highlights the infectious little riffs propelling Kelly's original, yet the song doesn't lose one bit of the vulnerability that made listeners connect to it in the first place.
"I used to be totally obsessed with American Idol, and when I heard it was ending, I started listening to a ton of Kelly Clarkson again, and became obsessed like never before," Kempner says. "She's an amazing role model with great songwriters working for her, and 'Miss Independent' in particular is a song I remember loving when I was like 10. To this day, I feel empowered singing along to it."
Kempner released her anxious gem of a debut, Dry Food, a couple weeks back, and hits the road with fellow new favorites Mitski and PWR BTTM this fall.