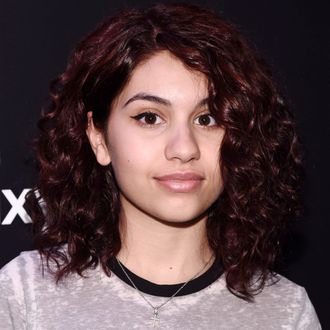 So good.
Photo: Ilya S. Savenok/Getty Images
After charming the world (and Drake) with her anti-party confessional "Here," Alessia Cara will release her first EP, Four Pink Walls, later this week. She phoned into Zane Lowe's Beats 1 Radio show today to premiere two of those songs, "Seventeen," and "Outlaws." If "Here" was a Song of Summer for the wallflowers, "Seventeen" is a fall banger for the back-to-school pep rally. The song takes nearly all its cues from Lorde's "Team," with its swirling synths and punchy drums, though its lyrics hit closer to the childhood reminiscing on "Tennis Court." "I wish I could freeze the time at 17," Cara sings, her bubbly optimism weighted with regret over taking her youth for granted. "Outlaws" isn't quite the hit "Seventeen" will likely become, but it's a better showcase of the vintage cadences in her voice — "old doo-wop-y," as she calls it — that she awed us with in her stripped-down version of "Here" for Vulture last month. If there's one to watch for the rest of 2015, as she preps her debut album, it's Alessia Cara.
Update: Alessia Cara has released the rest of her EP, with accompanying DIY-filmed footage. Stream "I'm Yours" and "Four Pink Walls" below.