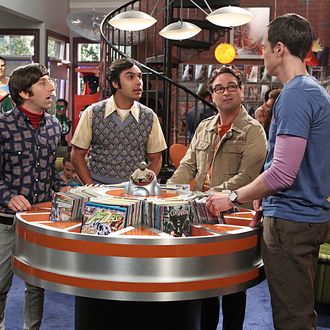 'The Big Bang Theory.'
Photo: Sonja Flemming/CBS
Forbes has released its list of best-paid TV actors for 2015, and this year comedy reigns supreme. Eleven of the top 15 earners play in sitcoms, most notably The Big Bang Theory, which boasts four of the top six slots. The show's Jim Parsons leads with $29 million, overtaking last year's king, Ashton Kutcher ($26 million, from 2014), who fell to third. The other dominant show turned out to be Modern Family, which has its four main men all making the cut. Notably, the ghost of McDreamy haunts the list, as well as a couple other dramatic heavyweights (Kevin Spacey and Mark Harmon). Forbes points out that there is a different list for comedians and TV personalities (i.e., Jon Stewart), and that cult figures (i.e., Terrence Howard) don't necessarily have immediate monetary figures that match their light-speed popularity — so keep that in mind when yelling at the list for excluding them.
Forbes reports that, like its movie-star list, its TV ranking measures paydays before cutting out management fees and taxes (in a 12-month period); it also includes endorsement deals and side gigs (like a Broadway show, for example). The TV actresses list has not been released yet; however, Sofía Vergara crushed it ($37 million) last year and is expected to this year, too, along with Big Bang's Kaley Cuoco-Sweeting. Judging by this list, that should come as no surprise. Until then, here's the list of men in full:
1. Jim Parsons: $29 million
2. Johnny Galecki: $27 million
3. Mark Harmon: $20 million
3. Simon Helberg: $20 million
3. Kunal Nayyar: $20 million
3. Ashton Kutcher: $20 million
7. Jon Cryer: $15 million
7. Ray Romano: $15 million
9. Patrick Dempsey: $12 million
9. Simon Baker: $12 million
11. Ty Burrell: $11.5 million
12. Jesse Tyler Ferguson: $11 million
13. Ed O'Neill: $10.5 million
13. Eric Stonestreet: $10.5 million
15. Kevin Spacey: $9.5 million
You can read Forbes's full explanation of its findings and measurements here.