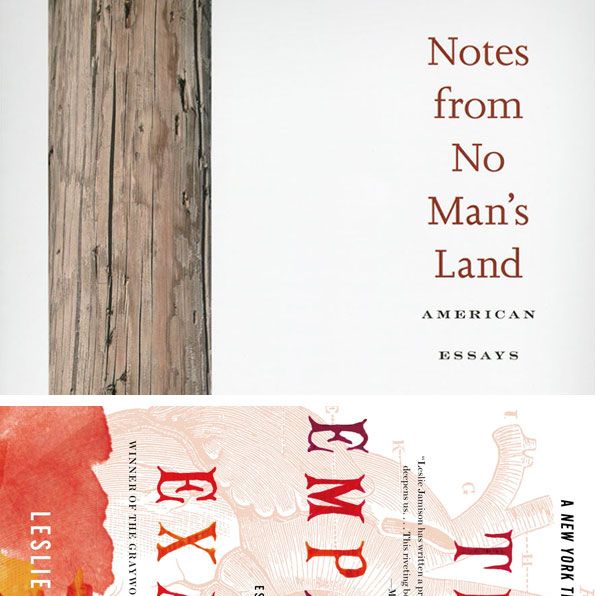 A quartet of Graywolf scores.
Before she won multiple awards and wrote one of the Times Book Review's top-ten books of 2014, the young poet Eula Biss tried to sell a book of essays to major publishing houses. "They were looking to push her into a more polemical voice," says her literary agent Matt McGowan. Biss wouldn't change her diffident, lyrical approach, and nothing came of it. Then she won a publication prize from Graywolf Press, a nonprofit outfit in St. Paul, Minnesota. After the resulting book, Notes From No Man's Land, won a National Book Critics Circle Award, publishers were the ones doing the courting. "I could have easily sold On Immunity for more money," says McGowan of Biss's follow-up. Instead, "I made Graywolf do a little song and dance to make sure they were going to make this big." They did, and Biss's study of vaccination merited wide acclaim, strong sales, and another call from a commercial house — this time offering six figures for the paperback. McGowan declined: "Why change a winning team?"
Graywolf has been winning for a while. Over the past few years, as publishing conglomerates merged, restructured, and grappled with Amazon, a midwestern press snuck in and found a genuinely new way forward for nonfiction. Leslie Jamison's The Empathy Exams entered the Times best-seller list at No. 11, while Claudia Rankine's Citizen, a half-versified meditation on racism, stormed post-Ferguson America. Each has sold more than 60,000 copies, putting them in Graywolf's all-time top five. Citizen just went back to press for a tenth time, putting it close to having 100,000 copies in print. That hardly puts Graywolf in league with Penguin Random House, but neither is it just a scrappy little press punching above its weight. It's a scrappy little press that harnessed and to some extent generated a revolution in nonfiction, turning the previously unprepossessing genre of the "lyric essay" into a major cultural force.
The term lyric essay was popularized in the '90s by the writer John D'Agata (a Graywolf author) to describe a hybrid form of nonfiction that accommodates verse, memoir, and criticism. But its origins go back at least as far as Susan Sontag and Joan Didion, journalist-critics whose work is magnetically personal. Its present-day progeny is more diverse and more direct, answering to a very modern hunger for well-worded social arguments rooted in identity and experience. It's a rapidly expanding niche, where Ta-Nehisi Coates and Roxane Gay can turn painful confessions into powerful exhortations while — in a different mode — Karl Ove Knausgaard and Sheila Heti can make universal claims out of private stories. On this shifting ground, Graywolf's poet-critics are punching above every weight class.
The publisher's very good 2014 wasn't a fluke but a culmination (and its lyric-essay run continues with this year's The Argonauts, Maggie Nelson's deconstruction of both gender and genre). Publishing just over 30 books a year, Graywolf has had authors win four NBCC awards, a National Book Award, two Pulitzers, and a Nobel Prize — all in the last six years. This year, it will exceed $2 million in sales for the first time. No other independent press, never mind a 41-year-old nonprofit, has come so far so fast. It didn't happen by accident.
"I think of success as being able to say yes to something that doesn't necessarily look like a commercial winner," says Fiona McCrae, Graywolf's publisher since 1994, over yogurt and decaf on one of her monthly visits to New York. "Knowing something is good and having to say no, that seems to me the bigger failure." An affably owlish Brit, McCrae started out in London's legendary literary Faber & Faber before transferring to its small American spinoff in Boston. Three years later, she heard that Graywolf's founder was resigning.
Scott Walker began hand-sewing poetry chapbooks in Port Townsend, Washington, in 1974. While picking up poets like Tess Gallagher and Jane Kenyon, Walker turned Graywolf Press into a nonprofit and relocated to the Twin Cities, home to a thriving philanthropic base (which also supports nonprofit presses Milkweed and Coffee House). But in the '90s, a publishing slump hit Graywolf particularly hard; Walker resigned and his board eventually hired McCrae. At the time, she had zero experience in nonprofits — possibly to Graywolf's benefit, because she chafed at the complacency to which nonprofits are prone. "There's got to be a way in which you absolutely value Graywolf," she says, "but like, come on, everybody! Other small presses are not the measure. Do you say, 'For our size, we get more attention, so that's it,' or do you say, 'Where can we go?'"
In 1999, McCrae won a $1 million grant by promising to take Graywolf to "yet another level." A couple of years later, they raised another $1 million with a detailed capital plan: a grant for work in translation; a fund to increase author advances; a budget for travel to global book fairs; a New York city outpost; a "national council" of fund-raisers; and the Literary Nonfiction Prize that would launch Biss and Jamison. Just as important, Graywolf switched its distribution to prestigious Farrar, Straus and Giroux. "That signaled something," says Jeff Shotts, Graywolf's executive editor. "It put our books in the same conversation with Seamus Heaney."
Graywolf reached its fund-raising goals, and just as McCrae was beginning to get impatient — "I remember thinking, Where's the big hit?" — Graywolf's initiatives came together to help create one: Per Petterson's 2007 best-seller Out Stealing Horses. Acquired and promoted via Graywolf's new global connections, listed beside giants in FSG's catalogues, and hand-delivered on a visit to the New York Times, the Norwegian novel won the IMPAC Dublin award, scored a Times Book Review cover, and sold 70,000 copies in hardcover. Petterson has spurned corporate advances to remain with Graywolf ever since.
McCrae admits that they dug deeper than usual to keep him, but it was partly thanks to Petterson that advances have roughly doubled in ten years (as has the annual list). Graywolf can now sometimes pay $25,000 for a book — not much, unless you're a young writer whose work defies conventional categories. And it's exactly in the cracks between history, memoir, poetry, and criticism that Graywolf has lately thrived. When the NBCC nominated Citizen for awards in both poetry and criticism — unable to decide which it was — "it was fun to watch that debate," says Jeffrey Lependorf, head of the Council of Literary Magazines and Presses. But at a larger press, "that's a question that might have led to a marketing department putting the kibosh on it."
Graywolf's nonfiction hybrids don't just defy publishing categories; they also offer subtler takes on issues like race (in Citizen) and gender (in The Argonauts) than some publishers might prefer. They are difficult to summarize in tweets. Yet Graywolf uses Twitter to great effect; it has more than twice the followers of FSG and almost as many as Knopf, which is six times its size. That's a serious asset for a house with a surfeit of distinctive voices but a limited marketing budget. "You don't have to pay for cyberspace," says McCrae. "It's equalizing in that way."
The publisher's oddest source of free publicity was its working with debut poet James Franco. The polymath gadfly name-checked Graywolf on Jimmy Fallon last year while promoting his collection, Directing Herbert White, which referenced his own short-film adaptation of poems by Frank Bidart. It was Bidart who brought Franco's work to Graywolf's attention. "It was a risk, sure, as a first book of poetry can be," says Shotts, Franco's editor, "and one written by someone under public scrutiny. Graywolf published it in a pretty subtle way. It was an opportunity to reach readers who don't normally come to poetry." He hastens to add that Franco was paid a standard poetry advance and has never donated to the house.
Celebrity poet aside, Graywolf tends to lead on trends or avoid them. "They obviously have to look at trends, but they can be a little more adventurous," says Rick Simonson, the buyer for Seattle's Elliott Bay Books. "I've watched the bigger houses plunge into things and back away. People in New York, if they were trying to sell me a book of essays, they'd say, 'I know essays are a tough sell.'" Now that essays are selling at Graywolf, others are catching on. Little, Brown lured Leslie Jamison away with a seven-figure advance only two months after The Empathy Exams came out.
"It feels like an inevitable loss," McCrae says of Jamison's defection, "but it's not our job to put ourselves between an author and a substantial advance." Graywolf can occasionally compete with New York publishers, but it can't survive by mining just one vein, whether it's a breakout writer or an entire subgenre of nonfiction. "It's almost like a fountain," says McCrae, butterflying her arms to illustrate. "You launch the book and up they go, and there's going to be a falloff, and you invest back in again. We've had this five-year period, but what's coming? We've got some new things. Like The Wake."
The Wake, by Paul Kingsnorth, is a novel about the Norman invasion of 1066, written in a modified Old English that takes some getting used to. It starts off impenetrable, becomes immersive, and concludes with an emotional gut-punch. Published in England through a crowdfunding platform, it was deemed by The Guardian "a literary triumph" and effusively praised by Geoff Dyer and Eleanor Catton. Graywolf editor Ethan Nosowsky went after it aggressively. It's set for a rave in the Times Book Review.
"The nice thing about Graywolf," says Nosowsky, "is the things that often seem most difficult in the market turn out to be our best successes. The Wake was like that. I can imagine walking down the hall of a big house terrified of bringing that to my boss, and having them think I was losing my marbles. But I had no doubt that Fiona would be excited. It's our lead fiction title for the fall. And it's very Graywolf."