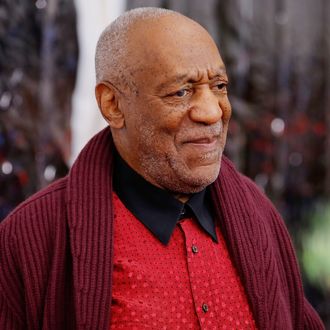 Bill Cosby at the "Stand Up For Heroes" event in 2013.
Photo: Jemal Countess/Getty Images
One of the unanswered questions throughout the Bill Cosby scandal has been a larger, structural one about the industry. Who else in Hollywood knew about the alleged sexual assaults? And more specifically, what did Cosby's agents at William Morris know? (Cosby switched to Creative Arts Agency in 2012. They have since dropped him.) Those are the questions at the center of this article by The Hollywood Reporter, which speculates on what one of William Morris's longtime agents, Ton Illius, might have known.
Illius, who died in 2011, is a key figure because his name has been brought up twice regarding Cosby's alleged sexual assaults. In the unsealed testimonies from Andrea Constand's 2005 civil suit, Cosby himself admitted to asking Illius to pay $5,000 to one of his alleged victims in 1976. The William Morris agent comes up again when Kacey (a pseudonym) claims she was assaulted by Cosby when she worked as Illius's assistant. In a public statement, she said that Cosby sexually assaulted her after offering to help her with her career in 1996. According to her attorney, Gloria Allred, Kacey then reported this to her boss and the HR department, but she left because she felt they now viewed her as a "problem." "[Kacey] stated that [Illius] seemed upset, but she was not sure if it was because of what she told him or because he now viewed her as a potential problem," said Allred.
William Morris, for its part, has distanced itself from the scandal, declining to speak to the issue because most of Cosby's old handlers are gone. Cosby's top agent Norman Brokaw is, according to THR, "88 and frail." His son David, who worked as Cosby's publicist for 40 years told THR, "Any action my father, Norman Brokaw, has ever taken that I knew about was predicated on honesty, ethics and integrity for any client." Another former WME agent, Dick Alen, who is now retired at 84 years old, said that he doesn't remember hearing of any sexual allegations. However, he does say that it wouldn't be surprising that an agent would act as a financial intermediary. "Cosby or any artist could call us — who were longtime friends as well as agents — and say: 'Hey, do me a favor. Give $100 to this [person], I'll reimburse you,'" said Alen. "You don't ask why. Your big client wants you to do a favor, you do it. Why is none of your business. You never ask."