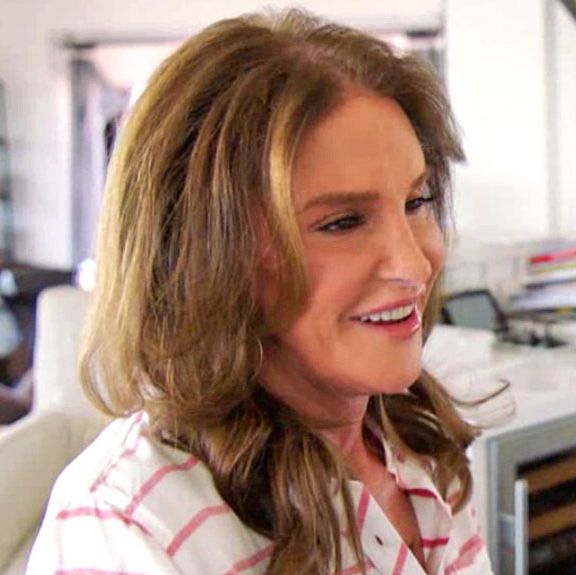 Winter Laike is a trans musician, storyteller, son, brother, and less notably, Original Plumbing magazine's Mr. Transman NYC 2013. Nicole Pasulka is a non-trans journalist who writes about sexuality and gender and can remember a time not so long ago when every article about trans people or issues had to include an ad hoc definition of the term. Those days are gone, and in their place we have I Am Cait, part reality show, part PSA, a landmark moment for trans visibility, and a romp through the homes and closets of a very rich woman. Ahead, we discuss last Sunday night's episode of Cait.
Winter Laike: Cait and her hairstylist Courtney are at the Malibu house when Courtney's boyfriend, Johnie, comes to pick her up. Cait asks how they met and right away the ladies want to know if he would date someone who's trans. Johnie and Cait agree that coming out early on in a relationship is essential, but it's a no-go either way for Johnie. He thinks it's deceptive to not say it right when you first meet.
Nicole Pasulka: Courtney wants to know if Johnie would have dated her if she'd been a trans woman. Johnie seems awkward because this has gotten really awkward. Cait tells Courtney, "He would dump you like a hot potato."
Johnie is by no means the only guy who would react that way, and we've got decades of public ridicule and scorn toward trans women (and the men they date) in popular culture to thank for that. But is the root of his issue with dating a trans woman what other people would think? Or does he believe that being with a trans woman is somehow like being with a man?
W.L.: I can't speak for Johnie, or any other man, but I think it comes down to two things: People are insecure, and people don't consider trans women to be women. I think cis guys focus on the parts that a person has and not the person as a whole, and whether certain junk pairings would automatically put them in the "gay" category.
N.P.: Maybe Johnie would be fine with dating a trans woman if it weren't so stigmatized for straight guys. Though my knowledge of this person comes exclusively from watching him squirm on TV for two minutes — so this is pretty speculative.
Cait says all of the "girls" — meaning the trans women she's been hanging out with — have a "hard time finding a date." This is much less speculative and it's one more thing about society Cait can try to use her fame to change.
W.L.: Where could Cait possibly go after all this date talk? To a "girls' lunch" with Candis. Is this a date? With these two I'm never sure.
Candis has an audition for a movie with Katie Holmes. During the audition process you're always being judged, but there's extra judgment when you're trans, she says. Just how much better do you have to be than everyone else in order to be taken seriously?
N.P.: Candis is tired. She puts up a front because she wants to be the one people look up to, but it's a lot.
W.L.: This show is all about introducing complex topics in lighthearted ways, so while the two maybe-lovebirds wait for the check, they chat about navigating health care while trans.
Candis has an appointment at an LGBT health center that she had to make three months in advance. Doctors who don't specialize in care for trans folks just don't have it together yet. Medical personnel use the wrong pronouns, incorrect names, refer to body parts in ways that can make going to the doctor a complicated and traumatic experience for trans people.
Back in the day, when Candis started her transition, she says she was fondled by a doctor during a physical. "The good old days," says Candis, laughing it off.
Cait is shocked, once again. I get so annoyed when Cait is shocked. Wake up, girlfriend. It's not all sunshine and rainbows and hangouts with the girls and joyrides.
Like pretty much everyone else, trans people want to see doctors who know what they're doing, so Candis is checking out things at the LGBT Center in Los Angeles. People come from as far as Las Vegas and Phoenix, says one of the doctors at this clinic.
N.P.: While Courtney is doing Cait's hair, Candis calls. "It's your girlfriend," Courtney tells Cait. This is how Courtney refers to Candis, apparently.
Some of the girls are going to the Abbey to hang out with all the different types of queer-mos in the rainbow. Cait tries to say no but Courtney won't let her.
Will Cait be able to have fun at a gay bar? And more important, will she dance?
W.L.: No, not really. At the Abbey, Candis and Cait's girlfriends swoon over the male go-go dancers, and Cait seems uncomfortable. She only lets loose after Candis gets up to dance. Candis says, "My gut says [Cait] is attracted to women." She's been married to three women, after all. Gender and sexual orientation are two different things, and Candis can't imagine Cait deciding to transition and then going with guys. But, "if she decides to venture off, it's nobody's business but hers." And that's all we need to say about the matter. Everything is fluid. Cait will figure out whom she's attracted to and maybe follow those feelings. Sometimes people let the labels of their sexual orientation dictate whom they date. Sometimes people date whomever they're attracted to and try to slap a label on it. Or Cait can date anybody and everybody and put an all-encompassing label like "queer" on it. Or we can avoid labels altogether.
Cait is clearly scared to be at this gay bar, and maybe it's because she is afraid of being gay. She's already dealing with coming out as trans. Being anything but heterosexual isn't going to make life easier.
N.P.: Thankfully, Jenny Boylan, sage of self-love and acceptance, has trekked down from the land of rare books, autoharp, and lesbian pride to sort this mess out. Cait is more confident, Jenny observes. She seems like she's come a long way. What did they do at the Abbey? Cait tells her the male go-go dancers' packages were unrealistically large.
Jenny doesn't want to talk about bulges, she wants to talk about Cait's sexuality. Or at least about her sexual attraction. Cait deflects. She's been so focused on helping people. But Jenny won't let it go. "You're running away from it." Cait concedes that she thinks being with a guy could make her feel "like a normal woman."
Once again, Jenny called it. This is rough. "You don't need a man to make you a woman," she tells Cait.
"We all deserve love. I worry that you're not letting yourself be loved." Jenny has steered us back onto the road to self-acceptance. The destination is elusive, however. "I'll play that card someday," Cait says. Oof.
W.L.: Cait and a group of women gather for dinner, drinks, and discussion — mostly about the trials of dating while trans. Trace Lysette recalls a story of a potential date who bailed once he found out she was trans. Chandi chimes in, "When you tell a prospective date you're trans, conversation quickly turns to sex." Cait is surprised. Is this true? "Yes, Cait," Chandi replies to Caitlyn's naïveté. Chandi is always riding Cait so hard, but I totally understand why. Cait seems to easily get caught up in the Pink Cloud and doesn't realize how difficult things are when you're trans.
Men who are uncomfortable dating trans women are nothing new. But even with more positive representation of trans women in the media, it's not much easier to date. Is that going to change? How much tolerance for men's discomfort is too much? Is Johnie an asshole? Is the guy who stood up Trace?
N.P.: Zackary Drucker says that while cis men think dating a trans woman makes them gay, trans men are awesome dates. It's a trans-on-trans relationship, and so gender isn't such a big deal and it's certainly not a deal-breaker.
They all toast trans men!
W.L.: Trans-on-trans relationships are a bit easier in that there is more understanding when coming out. But some trans men can be just as shitty as cis men, maybe because they're overcompensating to fit in with cis guys. As always: Some people are terrible, some people are not.
N.P.: Candis has been having major car trouble so Cait checks things out. Cait pumps Candis's gas. Is anyone gonna talk about how butch Cait sometimes is? It's awesome, and I love when she owns it.
W.L.: Back at Candis's house, she tells Cait that she moved to L.A. with a guy who abused her. She didn't acknowledge all the red flags at the time and made excuses for not leaving.
N.P.: This is so wretched. A plague on anyone who mistreated Candis. She says she always stays too long and puts up with too much.
W.L.: Chandi and Candis meet up to get pedicures and talk matters of the heart. Chandi is sympathetic. "Some guys just think that we'll go for anything," she tells Candis. Trans women aren't desperate for love and won't just settle for anything that comes their way. Trans women can be picky just like anyone else. Candis says, "Maybe I should just date Cait."
I'm not sure if Candis really thinks Cait is an easy way to go or if she's looking for approval from Chandi. And I don't know what Chandi actually thinks about this, but she laughs. "Who would be better for Cait than someone who understands her whole complete journey." Chandi's tone has so much shade. Candis doesn't seem to notice.
N.P.: The uplifting field trip of the week is to TRANS CAMP. Candis and Cait visit with trans kids at Camp Aranu'tiq who are adorable, of course. I like that they remind everyone that questioning gender and going through gender transition means you've thought and considered gender more than most people. Trans kids often know more about themselves and are more self-aware, not less.
W.L.: Candis shows up at the Malibu house bearing copies of the Los Angeles Times review of the show, and Cait cheers the positive press. Candis's car is still on the fritz. Luckily, Cait's "friends in the automotive world" have come through with a loaner Lamborghini. Candis is psyched. Oh, Cait, the largesse cannot wash away the loneliness. The show ends with Candis and Cait tootling around Malibu in this sweet ride.
N.P.: These ladies haven't yet found the "partners" they're searching for, but at least they've got each other — and their "friends in the automotive world."