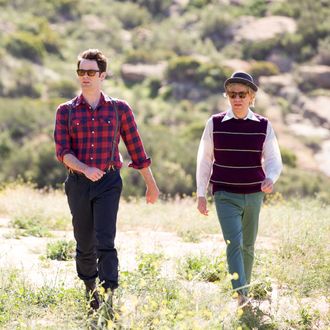 Bill Hader and Fred Armisen.
Photo: Tyler Golden/IFC
After USA delayed the finale of Mr. Robot by a week because of similarities between the episode and yesterday's shooting in Virginia, where two journalists were killed on-air, IFC is also delaying the next episode of Documentary Now, the mockumentary show starring Fred Armisen and Bill Hader, because of similarities in their episode "Dronez: The Hunt for El Chingon" and the tragedy. The episode is a parody of Vice and "participant journalists" who are killed when they're trying to track down a drug lord in Mexico. "In light of yesterday's tragic events, IFC decided to air 'Kunuk' as tonight's episode of Documentary Now! in place of 'Dronez,'" IFC said in a statement. "Our thoughts are with the victims." That being said, the actual episode has been available for weeks on Vice.