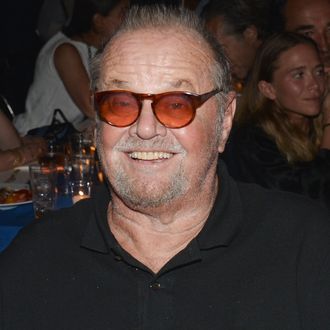 Jack Nicholson.
Photo: Kevin Mazur/Getty Images
Jack Nicholson isn't really known for his sexual allure anymore. The guy's one of our best living actors, of course, but when you think of Jack Nicholson, sexy is no longer the first thing you think. You think of the guy in sunglasses plopped down in the front row of a Lakers game. Unless you're David Spade — then you think of Jack Nicholson as the guy who stole your girlfriend in the late '90s.
In the September issue of Details (via GQ), David Spade, who has 12 fewer Oscar nominations than Nicholson, says, "Nicholson asked Lara Flynn Boyle out in front of me, while we were all smoking a doob somewhere." (Who says doob?) Yes, Spade was dating Boyle at the time — the world was in a weird place, with everyone still reeling from the Seinfeld finale and worried about Y2K.
Boyle was purportedly angry at Spade for not standing up for her when Nicholson creepily hit on her. Spade told her, "I've been in this town long enough to know when I'm outranked. You're either gonna go out with him or you're not."
Later, Spade says, Boyle and Nicholson were in a car crash, and she "crawled out of the sunroof and yelled, 'I have a boyfriend! I can't be here!' She and I didn't talk too much after that." They broke up, and Boyle began dating Nicholson in 1999, when they showed up together at the Emmys. Boyle and Nicholson broke up in 2000.