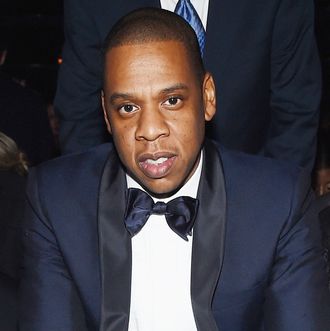 Jay Z.
Photo: Larry Busacca/Getty Images
If you're thinking the Drake–Meek Mill beef has been entertaining, it's child's play compared to the beef of yore. The stakes were higher, the lyrics more intense, and there was a samurai-esque sense of honor. DJ Clark Kent, a storied collaborator of Jay Z's, further confirmed as much in an interview on "A Waste of Time With ItsTheReal" when he revealed that the East Coast rapper penned an unreleased, nasty takedown of West Coast icon Tupac Shakur. "It never came out, out of respect for the fact that he died. Jay did a record going at Pac, but right as it was about to come out, son died. We performed it, though … at the Apollo," Kent said. "It was scathing, like crowds were like, Oh, shit! If he was alive, there would've been no coming back. This was so tough. To me, it probably was one of the hardest diss records I've ever heard."
As much as he admires it, Kent talks about the track like it's a cursed object. Listen to all of what he has to say about it here (circa 53-minute mark):
Jay Z was admittedly at odds with Tupac, almost via transitive property, because of the latter's legendary beef with the Notorious B.I.G. — this might've stirred some speculation about shelved diss tracks. Considering the kings of the coasts are both gone (RIP) now, we're probably not going to hear this record any time soon. (Jay Z's priorities are also ever-shifting.) But, if what Kent says is true, maybe that's for the better.