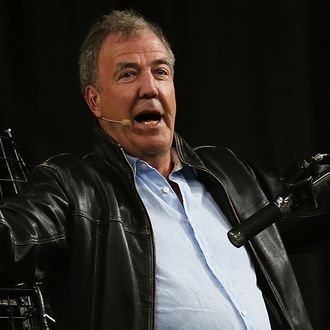 Jeremy, you're a rich man.
Photo: Matt Jelonek/Getty Images
Punching a Top Gear producer may be the best thing that ever happened to Jeremy Clarkson's bank account. Back in July, the Financial Times reported that Clarkson's deal to star in a new car show for Amazon Prime will pay him and co-hosts Richard Hammond and James May as much as $250 million. Now a Telegraph interview with Amazon's Jeff Bezos seems to confirm that the trio will be getting raises to match their record-setting speeds, telling the paper the hosts will be "very, very, very expensive … They're worth a lot and they know it." The deal is reportedly for three years and 36 episodes, which works out to roughly $7 million per episode for the three men to share. That's Friends money! We thought we'd never see those days again, but when you're as popular as Clarkson is, Jeff Bezos will be there for you.