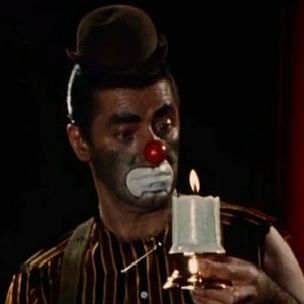 In 1971, slapstick auteur par excellence Jerry Lewis embarked on a sojourn to Sweden to film The Day the Clown Cried, a movie about a German clown named Helmut Doork who is forced to lead children into the Auschwitz gas chambers after he mocks Hitler. Lewis hated the film. After spending time hewing and splicing it, trying to no avail to fix what he considered to be an embarrassment to his artistry, he scrapped the project. Few people have seen the film, and its creator has repeatedly claimed the world will never see it, even after he dies, which has imbued the film with a mysterious aura. Some consider it the Holy Grail of lost comedies.
That mysterious aura may soon be lifted. Embedded deep in a Los Angeles Times article on lost films is a fascinating little aside from Rob Stone, the moving-image curator at the Library of Congress: Stone says the LOC has acquired the only known print of Lewis's film as part of a Jerry Lewis collection, though the library has agreed to not show the film for at least ten years. (Lewis is 89, which means he likely won't be around in ten years. But who knows?)
The Day the Clown Cried could very well be a horrendous and painful endeavor for viewers, but it wouldn't matter. Cinephiles have sought the film for so long its legacy transcends quality. Speaking with Entertainment Weekly in 2009, Lewis hypothesized that people would have either considered the film "Better than Citizen Kane or the worst piece of shit that anyone ever loaded on the projector."
At the 2013 Cannes Film Festival, he told reporters, "It was bad, and it was bad because I lost the magic. No one will ever see it, because I'm embarrassed at the poor work."
In an oft-cited interview with Spy magazine, Harry Shearer, one of the lucky few who's actually seen the film, said:
"With most of these kinds of things, you find that the anticipation, or the concept, is better than the thing itself. But seeing this film was really awe-inspiring, in that you are rarely in the presence of a perfect object. This was a perfect object. This movie is so drastically wrong, its pathos and its comedy are so wildly misplaced, that you could not, in your fantasy of what it might be like, improve on what it really is. 'Oh My God!' – that's all you can say."
It remains ambiguous when, exactly, the LOC acquired the print, which dictates when the decade-long embargo will end. Until that day, on which the clown will ostensibly cry, these clips will have to do.