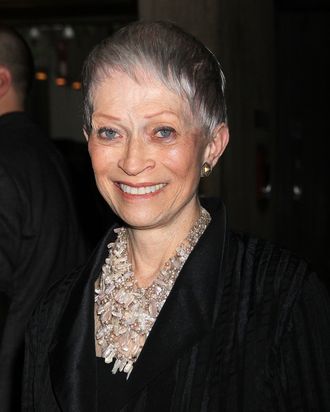 Photo: Laura Cavanaugh/Getty Images
The beautiful, giving, loving Melva Bucksbaum died over the weekend in Aspen, Colorado. She was vice-chairwoman of the Whitney Museum of American Art, as well as a generous benefactor and board member of numerous museums in this country.
With her husband, Raymond J. Learsy, she built the Granary, an exhibition space in Sharon, Connecticut, on a 53-acre property overlooking the Berkshires. There, in 2013, she curated "The Distaff Side," a stellar exhibition of 100 women artists from the couple's vast collection of contemporary art. The show, which included Kara Walker, Laurie Simmons, and Rachel Harrison, among others, was as good an exhibition of contemporary art as I've seen in the last few years; one almost didn't even notice the absence of the usual sausage-fest.
Bucksbaum was a self-made woman, the child of Russian-immigrant grocery-store owners; she trained herself in art at 9 years old, going on her own to Washington, D.C.'s great National Gallery. She tried her hand at being an artist but soon turned to her calling: supporting art, artists, institutions, and collecting. At first, Old Masters. Then Minimalism. After meeting Learsy in a true later-in-life love match, she gave all of her attention to contemporary art. The couple went everywhere, did and saw everything.
Meanwhile, Bucksbaum kept finding ways to support art: endowing a professorship in urban planning and design at Harvard University; establishing the eponymous $100,000 Bucksbaum Award, given to one Whitney Biennial artist. (Past winners have included Zoe Leonard and Sarah Michelson.)
She helped build, fund, and kibitz the great new Whitney Museum of American Art into being — all while suffering the tortures of the damned by cancer. Nobly. With dignity. Never pausing.
America is not a Socialist country; most of the money that comes into the arts comes from people with money. Melva Venezky Bucksbaum was old-school; she gave back to the art world all the gifts that art gave to her.
Rest in peace, artist.
Xo