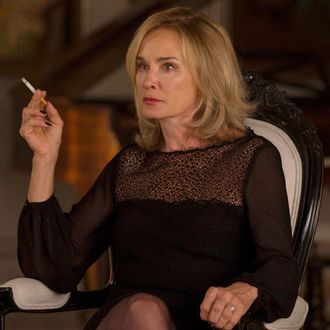 Photo: Michele K. Short/FX
When Jessica Lange announced that she wouldn't be appearing in American Horror Story: Hotel, fans were distraught. She's been an integral part of the show since its inception, first appearing in a pivotal supporting role in Murder House and then taking the lead with bravado in Asylum. In Freak Show, she basically performed showstoppers exclusively, including her super-uncomfortable versions of David Bowie's "Life on Mars?" and Lana Del Rey's "Gods and Monsters." She's starring in the road-trip comedy Wild Oats this fall, opposite Shirley MacLaine and Demi Moore, and will return to Broadway next year for a revival of Long Day's Journey Into Night. But Lange isn't gone from American Horror Story for good. Speaking with Entertainment Weekly, series creator Ryan Murphy said: 
"It's always possible. I'm trying to deal with her play schedule. Jessica is always about the character. She'll be back—she's not gone forever. But that's the fun and fresh thing about the show: sometimes somebody has to go away before you realize how much you miss them. She wants to come back we just have to come up with something."
So while we'll certainly enjoy Lady Gaga's Countess and her bloodlust and that "drillbit dildo" on Hotel, we can take solace knowing that Lange will one day return to chew scenery with glorious gusto. Considering that Murphy told EW there might be two AHS seasons next year, she'll have double the chance.