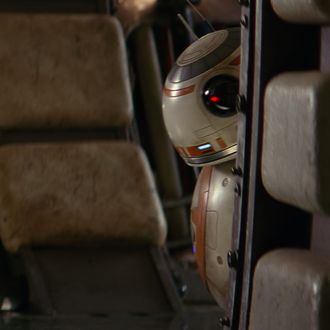 With Star Wars season nearing, the teases are picking up. As part of an extended interview with Entertainment Weekly, J.J. Abrams divulged how a healthy blend of anecdotes, research, and first sights helped him name the franchise's new faces. Some of them are not as symbolic as you'd think — or might have hoped — but the dubbing tales are entertaining nonetheless. Here, below, are a few of the fun facts behind the Episode VII characters, as well as what some of their names mean and where they came from:
Kylo Ren
This is reportedly the name Adam Driver's character "came to" when he joined an order called the Knights of Ren. It isn't the name he was born with. Ren, according to EW and Abrams, is supposed to be less a last name and more a title (à la "Darth").
Captain Phasma
Played by Gwendoline Christie, Captain Phasma's name comes from the 1979 horror flick Phantasm:
Phasma I named because of the amazing chrome design that came from Michael Kaplan's wardrobe team. It reminded me of the ball in Phantasm, and I just thought, Phasma sounds really cool
Finn and Rey
For John Boyega and Daisy Ridley's last-name-less characters, Abrams said: "I will only say about that that it is completely intentional that their last names aren't public record."
BB-8
The droid was pretty easy:
I named him BB-8 because it was almost onomatopoeia. … It was sort of how he looked to me, with the 8, obviously, and then the 2 B's. … It's funny how sometimes, the bad ideas, you try them out and kick the tires a little bit, and it just kind of falls apart and you can go somewhere else, you've just got to know it's temporary. And that one, he never had another name.
You can read the whole interview, which also includes bits on Poe Dameron (Oscar Isaac) and General Hux (Domhnall Gleeson), here. Star Wars is coming.