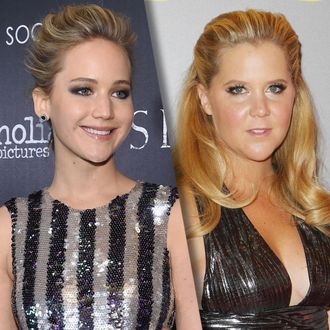 Do you see the resemblance?
Photo: Getty Images
Jet Ski pals and human pyramid building blocks Jennifer Lawrence and Amy Schumer are far more than just vacation buddies. They're co-workers! According to J.Law, who couldn't contain her excitement while chatting with the New York Times, they're about 100 pages into writing a movie together, in which they'll play sisters, obviously. "We're almost done writing. It just flowed out of us," she told the paper. And although J.Law says she only met Schumer two months ago, it was love at first email. "I emailed her after I saw Trainwreck and said, 'I don't know where to get started. I guess I should just say it: I'm in love with you,'" she says. "We started emailing, and then emailing turned to texting." One thing led to another, and boom! Soul mates:
"Amy and I were creatively made for each other. We have different flavors. It's been the most fun experience of my life. We start the day off on the phone, laughing. And then we send each other pages. And we crack up. I'm flying out tomorrow to see her in Chicago. We'll write a little bit with her sister, Kim, who worked with Amy when she was writing Trainwreck."
Let's face it, J.Law was born to tell Amy's dick jokes.