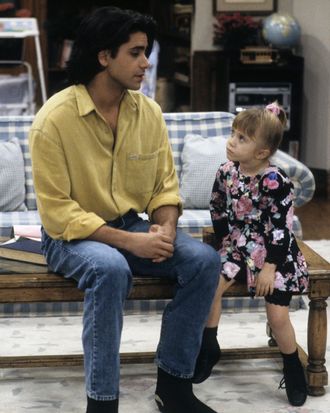 What a crybaby.
Photo: ABC Photo Archives/2010 American Broadcasting Companies, Inc.
Actresses with the ability to cry on-camera are a rare breed — yet it was that very skill that made John Stamos attempt to have his young Full House co-stars, then-unknown twins Mary-Kate and Ashley Olsen, sharing the single role of Michelle, sacked from the series. The actor confessed his reluctance to work with the Olsens on Thursday, per Entertainment Weekly:
"It's sort of true that the Olsen twins cried a lot," Stamos told critics at the Television Critics Association's semi-annual press tour in Beverly Hills. "It was very difficult to get the shot. So I [gesturing], 'Get them out…!' That is actually 100 percent accurate. They brought in a couple of unattractive redheaded kids. We tried that for a while and that didn't work. [Producers] were like, all right, get the Olsen twins back. And that's the story." 
Infants crying? How unprofessional. We're glad Mary-Kate and Ashley got their act together before they were thrust back into obscurity.