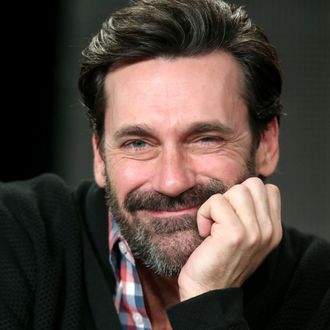 Jon Hamm.
Photo: Frederick M. Brown/Getty Images
After spending several years in the 1960s playing Don Draper (and not taking home any hardware yet), Jon Hamm is kind of like, Well, I guess I could maybe play a hologram? Sure, why not? Deadline reports that the actor is in talks to co-star in an adaptation of the sci-fi dramedy Marjorie Prime, the story of an ailing violinist enduring the rest of her existence in an assisted-living facility with a therapeutic, holographic companion. The holograms from the original play, which was written by Jordan Harrison and was a 2015 Pulitzer finalist, take the form of predeceased loved ones. Hamm would reportedly play (if the movie is to be anything like the source material) the hologram of the titular Marjorie's husband — but probably in his 30s or 40s — there to either revisit or rewrite memories with her, so as to prevent her mind from atrophying before death.
When the Los Angeles Times reviewed the play, the husband role was deemed "the toughest assignment in many respects," because of the difficulties in playing a gadget that isn't fully explained, as well as in feigning certain emotions as a convincing nonhuman. In other words, this sounds fun! and different! Michael Almereyda has penned the silver-screen adaptation, and he'll stay attached to direct. Other personnel details are currently unavailable. Production is reportedly set to kick off in October, should Hamm want to get cooking.