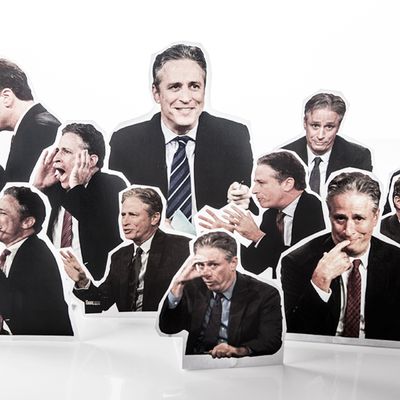 Photo: Illustration: Maya Robinson and Emily Denniston
Jon Stewart will end his 16-year stretch hosting The Daily Show in a nearly hour-long sendoff this Thursday. In honor of his valiant run, Vulture surveyed a number of comedians and former Daily Show employees for their favorite Stewart memories, both behind the scenes and as longtime show-watchers. Memorable moments include the great Bush versus Bush debate of 2003 and that dog who drank toilet water off-camera.
"I very obsessively watched the show during presidential-election years, and I feel like it was incredibly important to helping people cut through all of the crazy stuff they were hearing at other places. He just got down to what was happening, what the candidate said, what was important. He was incredibly instrumental in helping make important decisions in election years, and I hope whoever replaces him can do that as well. 2004, that was the year I was really, really paying attention to him. Thank God for him." —Andy Daly
"He's the best person who has ever done political comedy. No one will do it better than him. Ever. I can't really say enough about him. I would not be in this country if it was not for him. He's taught me everything I know of any value. I owe him everything. As an English person quite allergic to sincerity, I owe that man everything. The first night I was ever on, I had gotten to America the previous night. I turned up to work and they said, 'You're going to be on the show that night,' and the whole thing was a blur. J.K. Rowling was in the audience, which is kind of like meeting the Queen, only better, because she didn't inherit her abilities. That was back in 2006, and every moment I spent there was a dream come true. It was the greatest. It's going to be a different show. You can't easily replace him. You can't fit in his shoes. I tried. I was in his shoes for a summer and those shoes don't fit, they're too big." —John Oliver
"Jon Stewart doing an Otis Redding impression for the Obamacare website. That was probably one of my favorite moments. He's just on top of the desk with a microphone, screaming into the microphone, singing Otis Redding, for a health-care website. You don't get any better than that." —Travon Free
"I worked at the The Daily Show for 14 years. I would say my favorite moment would be whenever we were in a serious meeting, we had all these dogs that would come in the room. There would be times when we were in Jon's office and we were having a meeting about ways to improve the show, make it better, and one of the dogs, Kweli, would come strutting in the office, go into Jon's bathroom, and just start drinking out of the toilet! And then you'd go, 'Ya know, it's not that complicated. Life's not that complicated. We're overthinking these things.' [Laughs.]" —Rory Albanese
"There was one [bit] that was a holdover from the Kilborn era that was called 'And Here's What Really Matters,' or something like that. It was just a very snarky setup, gotcha journalism. The way Jon redefined those? It's just a case in point. It's like the Jason Jones piece, which is the epitome of what I think they do best. Maybe some people got mad about it, but doing this for 15 years, you know what you're getting into. That show just redefined how we do our job, too. If we get to keep Jon around, we're very lucky." —Robin Thede
"When George Bush debated himself, it was beyond epically brilliant. The whole concept, it just showed what the show can do, how fabulous the researchers are, how hilarious it was, they just captured it all." —Lizz Winstead
"I love what Jon Stewart said about Brian Williams. 'Finally, finally, the fact that someone lied about Iraq has finally been revealed. This is so exciting! Oh my God! Brian Williams lied to us about his Iraq experience.' I thought that was a really wonderful, classic Jon Stewart ironic moment." —Anne Beatts
"Jon Stewart is a brilliant, brilliant, hilarious dude. And he once again changed the game and took it in a different direction. He was with the times, but also set the bar in terms of funny, irreverent, but really on-target comedy. Those guys are amazing." —Will Arnett
"My greatest memory now is watching Jon's thing with Seinfeld. His drive around. I thought he was so great on that. I love how how relatable he is. I think with late-night hosts, or any hosts in general, the more relatable they are, [the better]. Jon goes on rants and you just love it. It's fantastic." —Theo Rossi
"When I DVR'd our show when it was on at 10:30, he would be on right after us, and I would catch the first 30 seconds that were always gold. Without a doubt, always gold." —Anders Holm
"Shit, I mean, I started doing comedy in college, when The Daily Show had just come on the air, and I remember graduating from college and trying to figure out where I was going to move and what I wanted to do. In my head I was like, 'I want to try to write for The Daily Show.'  I remember meeting Jon Stewart, seeing him just when [Naked Pictures of Famous People] came out and he had just taken over the show, and I was like, 'I wanna be like that dude.' And you know, I've been doing satirical news ever since." —Nick Kroll
"My first time on, Jon grabbed my arm and said, 'Look at the camera, and just fucking give it to me.' I'll never forget that." —Larry Wilmore
"There's not really one show I can point out, but I do remember when the show first started he interviewed David Charvet from Baywatch, and I remember seeing it and loving it. It was such a fun, cute little interview, and that was one of the first shows he did … he did a great job. I wish he'd never leave." —Morris S. Levy
"I was on a few times. Jon was always so great to everybody. He really never turned into an ass, you know. He always kept some kind of humility that's — considering he's like, you know, the voice of America — he kept himself pretty simple." —Colin Quinn
"It's hard to pinpoint any one time. I love everything Kristen Schaal's ever done on that show. And Samantha Bee, I was always obsessed with them. So, yeah, it's weird that it's going to be changing, but I'm sure that show, they hold themselves to a high level of excellence, so I'm sure it will be fine." —Aidy Bryant
"It's like losing, in a very different way, like a Mister Rogers, or someone that you grew up on and looked up to." —Colin Jost
"My favorite was when Che was leaving because they made him play this whole piano bit, and he was talking about all the memories after he was only there for a month or two. I thought that was really funny." —Pete Davidson
"I went to go see the show by myself [about ten years ago], and before the show starts, he comes out and talks. I asked some ridiculously stupid question about, like, getting into acting. It was the beggiest moment, and he kind of made fun of me, and the whole audience booed. It was one of the worst moments of my life because I respected him so much. I said, like, 'I'm an aspiring comedian, what do I do next?' So shitty. And I believe he said, 'Go get a bomb.' And I felt really shitty. I should have kept my mouth shut." —Bobby Moynihan
"When Kristen Schaal did her piece on sexy Halloween costumes, I laughed my ass off. It was really gratifying because I felt Kristen — who I know and love — was really being herself, and it was exciting to see her doing her own comedy and being the person I respect as a performer on a show that's considered to be very, very high-quality and one of the favorites ever. At the end, she high-fived Jon. Her point is, 'If we're gonna be sexy, let's be sexy,' and a woman came out dressed as a giant vagina, with her face in the center of it. Jon says, 'I don't find that sexy,' and then Kristen put a piece of pizza on it. It's wonderful and faithful because it's Kristen.
"I remember getting an audition for The Daily Show, and I got a virus from a baby who lived upstairs in the brownstone I lived in at the time. It was like foot-in-mouth disease — you get sores all over your mouth — it's like chicken pox in your mouth. At the time, I wanted this job. Now I don't think I would've been good on the show. I didn't even think to tell anybody I had a mouth full of sores. I was in such pain at the audition. I had bought a suit from Filene's Basement to look like a newscaster. I couldn't do it well at all because my mouth was filled with sores. And I had to return the suit." —Jenny Slate
"Jon and I were friends many years ago. I went to go see Six Degrees [of Separation] at the Waverly [Cineplex], and there's a scene that takes place at the Waverly, so it's funny when you see the movie there. He happened to be sitting behind me with a date, and every 20 minutes, he'd lean forward and whisper to me [husky voice], "It's no Schindler's List!" Even though he was on a date, he kept trying to get me to laugh the whole film." —Seth Herzog
"I used to love when Steve Carell was on there. Any time he'd do the vegetable guy. But then all the remotes are hilarious, and over the years I've gotten to work with so many people, like Ed Helms. And Larry Wilmore is an old friend of mine. I just love any show that is a springboard for funny people. SNL was the original, but The Daily Show and Colbert and Letterman and all that stuff. It's exciting. I'm a comedy fanatic, I've dedicated my life to it, and I like when people take it seriously." —Paul Feig
"Some of my favorites are just when Jon was going off on the wars, talking about the atrocities, and making it somehow palatable. He's just a brilliant guy, and I wish him the best of luck." —Steve Guttenberg
"I remember Stephen Colbert as a correspondent on the Jon Stewart show, the first time I'd ever seen The Daily Show years ago, obviously. He had this joke where he asked this lady that worked for GLAAD, if she was such an expert on being a lesbian, then why was she turning him on? And it made me laugh, I spit orange juice out of my mouth because he did it so deadpan, and I was like, Oh, that's the show. They're doing breaking stories, but on the opposite side, to show the ridiculousness of the other side. And I'd always wanted to be a part of it since then. So, that was a long-ass answer for a simple-ass question." —Michael Che