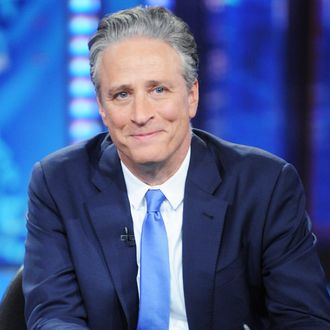 Jon Stewart.
Photo: Brad Barket/Getty Images for Comedy Central
Jon Stewart's first post–Daily Show gig was almost as entertaining, and maybe even as controversial (depending on how dedicated of a wrestling fan you are), as some of his best Comedy Central work. The former satirical news-show host Sunday took to Brooklyn's Barclays Center, where he steered the WWE's SummerSlam ship and proved to be an adept handler of folding chairs. He appeared numerous times throughout the night (his son, too!) as the four-hour event's host, most notably patching things up with Seth Rollins and turning heel against John Cena. It looked like the comedian had a lot of fun being there, which makes it very fun to watch the Jon Stewart highlight reel (below, via Uproxx).
Here he is doing his opening monologue:
Here he is backstage having fun with his son, Nate:
Here he is hitting Cena with a chair — a move that resulted in a semi-unfair win for Rollins and a priceless gem for everyone else:
You go, Jon. Keep crushing retirement.