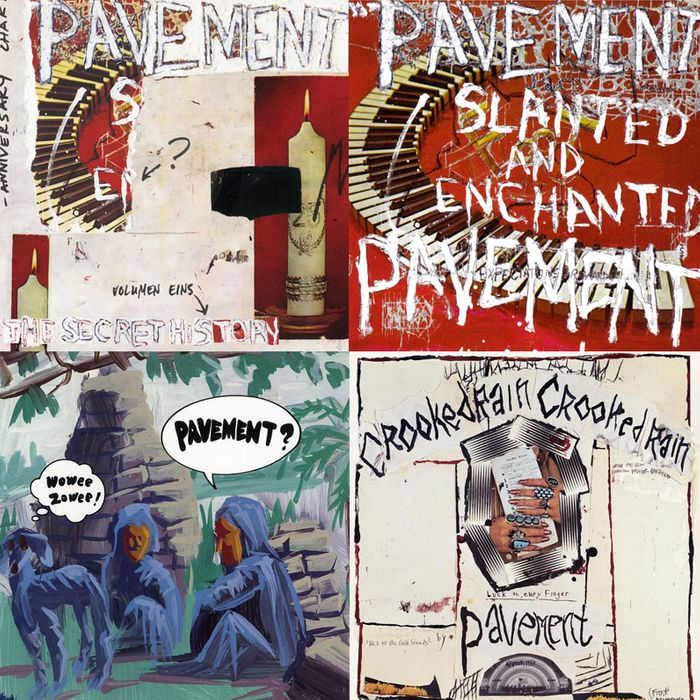 It has been 16 years since Pavement, the noisy, disaffected indie band from Stockton, California, released their fifth and final studio album Terror Twilight. That puts the band squarely in "special deluxe vinyl reissue" territory, where thirsty completists and vinyl junkies await. On August 11, a series of five Pavement compilations (one for each album in the official discography) will hit the streets, beginning with The Secret History, Vol. 1, a collection of 30 outtakes, B-sides, and rarities that date back to the time around 1992's Slanted and Enchanted. To mark this new chapter, we asked founding guitarist and singer Scott "Spiral Stairs" Kannberg to discuss his favorite Pavement tracks.

"Box Elder," Westing (By Musket and Sextant) (1989–1993)
This was basically the first thing [front man] Steve [Malkmus] and I really started playing together. We had a band before Pavement, this weird little instrumental band right around college. We'd get together and jam, and played a few shows, but it was nothing that good. So we got together one time on vacation from college and started playing these songs, and "Box Elder" was a song that I had in my head. Steve started putting some words and a melody to it. He had been working at college radio, and I'd been working at a local record store, so we knew about the indie scene, which was basically people like K Records putting out really cool seven-inches. We said, "Let's put out our own thing." The guy that ended up becoming our first drummer, Gary [Young], owned a studio, and we went in there and cut this song with about five or six other songs that we made up a week before. That's what Pavement was going to be about, just that one single. That was it. We didn't think it was going to do anything else. Steve went off on vacation to Europe or somewhere, and I ended up putting out that single myself. This was the more popular song on that little seven inch. John Peel heard it, and the Wedding Present covered it. People were excited about it. Fan zines were writing about it. It kind of broke us. This song was the base of everything.
"Forklift," Westing (By Musket and Sextant) (1989–1993)
To me, there are three different periods of Pavement: The initial one where me and Steve basically played all the drums and everything and did these singles. Then we got Gary and we did Slanted and Enchanted and that whole period of us touring. And then, when Steve West came, that was kind of the next period. I have favorite songs from each of those periods. Steve left around the time of "Forklift" and we were not really a band, so I started recording with some other guys. "Forklift" was one of those songs. Steve came back out of the blue, and I played him these songs, and he was like, "Well, let's make another Pavement seven-inch and do these songs." "Forklift" was done with another drummer, this guy who was my college roommate. It became a live favorite when we were first starting to play. It's really like The Fall, and Steve came up with these great, rambling lyrics, that I'm sure were pretty hard to sing. I think he was reading a lot of James Joyce.
"Two States," Slanted and Enchanted (1993)
I was always into geography and urban planning, and that's how I came up with the idea for "Two States." There's always been kind of an issue, up in Northern California at least, about having two states because Southern California takes all the water. Growing up north, you always hate Southern California. It's funny because now I live in Southern California, and so it's like, What am I doing here? Southern California does not cope with the drought because the water is basically cheap still. But they will. Eventually when people have to start paying more money, it will get out of control. "Two States" also has another element of The Fall to it; I don't think a lot of bands were trying to copy The Fall like we did. I just read that Mark E. Smith played at Glastonbury and peed his pants onstage or something. There's a really disturbing video of him just standing there.
"Summer Babe," Slanted and Enchanted (1993)
Another early song that really means a lot. I think it appealed to people because of its simplicity; the lyrics are really vivid. It was actually the only song up until Crooked Rain that we recorded bass on. Everything else was done with just guitars.
"Newark Wilder," Crooked Rain, Crooked Rain (1994)
This is a weird one for Pavement. It's a really strange song. To me, it's kind of when Pavement started moving in a different direction. I don't know how to explain it, but the production on it is really cool compared to any other Pavement song, and the lyrics are very strange, kind of almost like an early REM song from Murmur. I still listen to this song today and still think it's a strange Pavement song. Compared to the rest of the songs on that record, which are very upfront and immediate, this is very subtle and dark. I tried to go back and see if there were any live recordings of it because it's a tough one to play. I don't think we played it live very much. Steve's tunings are really of strange. I'm not sure which tunings they are, but he had a few really strange tunings that I could never figure out, and that kind of makes this song weird.
"Kennel District," Wowee Zowee (1995)
This is probably the most popular song I sing. I actually recorded it around the time of Crooked Rain and we just never really got to it, so we ended up redoing it for Wowee Zowee. It's very repetitious, where it's a verse-chorus-verse. I sing a few songs on every record, except for the last one. Steve plays a really great guitar part on it. It's a more popular Pavement song, that's for sure. We always have to play it live, but it's okay. I don't mind.
"Give It a Day," Wowee Zowee (1995)
Steve wrote and recorded this song with Steve West. I'm not on it. I think they recorded it because they were supposed to be recording some Silver Jews, and David [Berman] got anxiety and didn't come. So having this recording time, they recorded three or four songs, and this was one of them. It's one of my most favorite Steve songs. He could write a killer pop song if he wanted to — and, to me, this is like the perfect pop song. I was always jealous that I never got to play on it, but I'm glad we were able to put it out as a Pavement song. It stands the test of time and it's got some really great lyrics. The melody of it is really killer, and the way Steve sings it is beautiful. To this day it's probably my favorite song he's done. I really like "Major Leagues," too. That was another killer pop song that should have been a lot bigger.
"Type Slowly," Brighten the Corners (1997)
A really unique, very wordy song. It's one of our most legendary live songs, up there with "Fight This Generation." We jam it out, and it really has a beautiful flow to it. We did a live version for the Tibetan Freedom Concert. It's one of our favorite songs to play live, like our version of a classic rock song. Kind of a Neil Young song.
"Major Leagues," Terror Twilight (1999)
This is one of my favorite Malkmus songs. This and "Carrot Rope" from Terror Twilight are two classic Malkmus pop songs that he hates. He had something against playing great pop songs. I would always get him to do it. I said, "You got to put this on the record. It's great." And he would finally capitulate. To me, it's just a beautiful song. That's the record we did with Nigel Godrich. It's got a really nice, lazy feel to it. Kind of reminds me of Echo and the Bunnymen, Ocean Rain period. I don't know, I think if that song came out three to four years prior, it could have been as big as Weezer or Smashing Pumpkins. But we didn't have management; we just got together and jammed, made a record, went on tour, and then went back to our lives because we all lived in different cities and were happy doing what we were doing. Those bands had management and they all wanted to be rock stars. They all came from somewhere and someone told them, "You sound like Nirvana, and you'll be a rock star." I'm not saying that they didn't make good music. They probably did.
"The Hexx," Terror Twilight (1999)
We did a version of this song called "And Then" for Brighten the Corners. We played it a lot, and it kind of became another beast. At the time we started attracting fans who would attend multiple shows. We started getting Phish fans coming. I think this song really appealed to them. It's got this great lyric in it that I have always loved: "rally around the parking lot," as a kind of statement around everything becoming parking lots in America. I always loved that line.