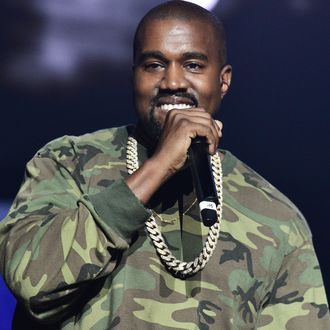 Oof.
Photo: Prince Williams/Getty Images
Since 2004, Kanye West has owned and operated his own record label, G.O.O.D. Music. The Def Jam imprint has churned a number of hits (including those from Common, John Legend, and Big Sean), but it hasn't been without any strife. One of the label's least known rappers, CyHi the Prynce, has aired out the label's dirty laundry in a new song, "Elephant in the Room," in which he calls out Kanye by name for being an absentminded boss. (CyHi has reportedly been dropped from Def Jam.) The song begins with a fed-up fan asking, "What the fuck is Kanye doing?" to which CyHi responds with a litany of grievances directed at his label's founder: "Hey, Ye, do you know what it feel like to really be signed to you in real life?" he begins. He starts off exasperated, wondering, "Why wasn't I on the cover of Complex?" (a reference to the group's 2012 cover story), but that frustration quickly explodes into full-blown anger later in the song. "And there ain't gon' be no new Yeezy album / Cause he in the the truck with his mouth taped and his wrists wrapped," he warns those waiting for SWISH.
Surprisingly, this isn't the first time a G.O.O.D. Music signee has taken Kanye to task over feeling ignored. In 2009, Big Sean confessed his disappointment about having to wait nearly two years for his debut album on the mixtape cut "Say You Will": "And I been signed to Ye for well over a year now / It's clear now, I'mma focus on my career now … But honestly I wish that I could take you off tour / Put you in the studio so you could focus more on my shit," he rapped then. Kanye's former collaborator (and alleged ghostwriter) Consequence had a long-standing feud with G.O.O.D. Music stemming from his absence during the group's cypher at the 2010 BET Hip-Hop Awards. (He would later blame Amber Rose and Taylor Swift in a dis track for supposedly distracting Kanye.)
In 2013, Kid Cudi left G.O.O.D. Music on amicable terms after struggling to find "songs that resonated with [him]" on the 2012 label compilation Cruel Summer. Though he later expressed feeling "underused" with a feature on Yeezus that he says he never gave Kanye permission to use in that context. In 2014, Common announced that he'd left G.O.O.D. Music after realizing Kanye wasn't as available to work on 2014's Nobody's Smiling, as Ye had originally led him to believe.
Of the few remaining artists on the label, CyHi spared no words on "The Elephant in the Room," calling Pusha T's last album "crap" and shaming Teyana Taylor for not letting "nobody in the clique tap." Cruel summer, indeed.