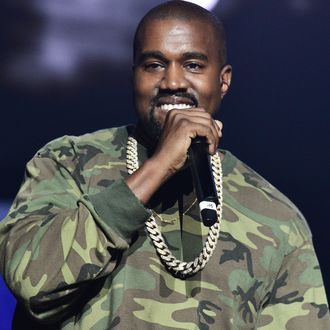 YEEZUS.
Photo: Prince Williams/Getty Images
FYF Fest and Kanye West go together very nicely: After saving the show's Saturday night headlining slot, Yeezy decided to go a little crazy and pull a Taylor Swift. During his set, West noticed that Rihanna, professional Kanye fan, was in the L.A. crowd, so he had the singer help out on a couple of their collaborations. Billboard reports that Ye first found RiRi when it was time for "FourFiveSeconds," and passed her a mike so she could chime in from the front row of the pit. Then, near the end of his set, Rihanna actually jumped onstage so she could sing her parts in "All of the Lights." Kanye, this was neat.

Here are some fan-captured videos. First, "FourFiveSeconds":
And next, "All of the Lights":
Nice work, guys.