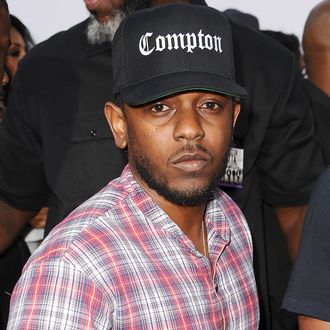 Photo: Jason LaVeris/Getty Images
Kendrick Lamar is widely seen as the heir to the West Coast hip-hop throne. A Compton native, he's been open about the influence of L.A.'s elder-statesman emcees, from Snoop Dogg to Tupac, and has collaborated extensively with Dr. Dre. But Kendrick still seemed a bit nervous — starstruck, even — when he sat down to interview Dre and the other surviving members of N.W.A for Billboard magazine. "I'm trippin' out right now, man," he admitted. "I'm bugging."
The generation-spanning powwow, which coincides with today's release of Straight Outta Compton, a biopic about the group named for their paradigm-shattering debut album, covered a range of topics: the group's favorite rappers of the moment (Kendrick, Pusha T, and Drake), the "visionary" spirit of Eazy-E (the group's fifth member, who died of complications related to AIDS in 1995), and the aggravations of the business side of the music business.
Through it all, all four members of the group — MC Ren and DJ Yella, in addition to Ice Cube and Dr. Dre — seemed acutely aware of their legacy. For one, their records served as a window into urban black neighborhoods ravaged by crime, lack of opportunity, and aggressive policing. "Our music allowed people to visit Compton from a safe distance," says Ice Cube. "We presented it in a way that they could digest it, they could comprehend it, and they could sympathize with what we were going through. And it's great music."
"We were the underground reporters," said DJ Yella.
More than that, Ice Cube thinks, N.W.A paved the way for many forms of subversive art to break into mainstream culture. "We made it alright for artists to be themselves. You didn't have to be squeaky-clean to be just as big, or bigger, than the squeaky-clean artist," he said. "I think it opened the floodgates for artists who wanted to be a little raw. [We were] the example, not only for musicians but for all artists. There wouldn't be shows like South Park, or even the reality shows where they're bleeping, and all that. We started that on the radio."
You can catch the rest of the interview below: