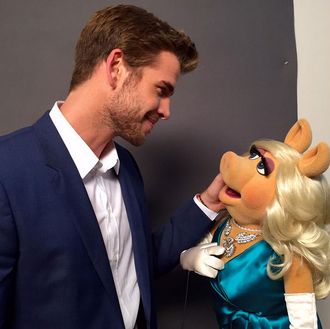 There's always got to be a first time.
Photo: Liam Hemsworth/Instagram
Kermit may have moved on to Denise from marketing, but Miss Piggy is clearly going to win this breakup. #TeamGale star Liam Hemsworth will be one of the many other celebrities slated to appear on The Muppets, including Reese Witherspoon and Elizabeth Banks. To honor the moment, he finally joined Instagram, writing, "Spent Friday with the most beautiful girl in the world. Kermit, #SorryNotSorry." Because clearly there wasn't an Instagram-worthy moment until he met the pig of his life.