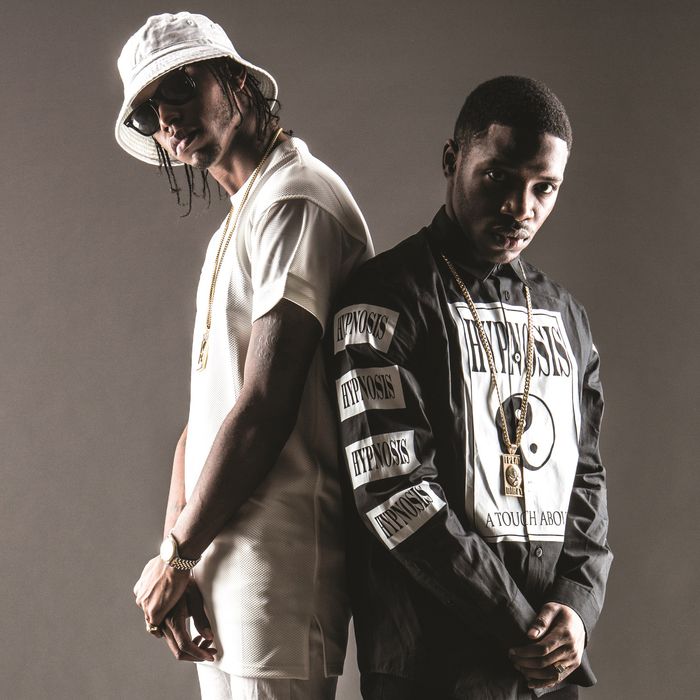 Photo: Courtesy of Def Jam
When Kanye West took the BRIT Awards stage earlier this year for a fire-breathing performance of "All Day," he reached peak squad goals with some of the biggest names and most interesting up-and-comers in England's urban music scenes. Tucked within that raucous crew were Krept & Konan, the young rap duo whose star-studded first LP, The Long Way Home, debuted at No. 2 on the British charts last month. The high charting is all well and good, but taking their native London is not enough for Krept & Konan. They're determined to get Americans to listen, and with the pop muscle of Ed Sheeran and One Direction's solo rebel Zayn Malik behind them, they actually stand a shot at doing just that.
Their latest single "Freak of the Week" has found a recent home on the U.K. charts, but the dancehall banger featuring Jeremih and DJ Mustard stands to serve as merely a warm-up to the potential success of "Dream," Krept & Konan's upcoming single with Sheeran. Believe it or not, Sheeran and Krept & Konan share an early musical path via grime, the freestyle-driven electronic/hip-hop hybrid that emerged out of East London about a decade ago. When Konan noticed Sheeran followed the duo on Twitter, he sent the pop star a DM suggesting a collaboration. Sheeran wrote back enthusiastically: "Yeah, let's make a record as soon as I get back to the U.K."
Though Krept & Konan haven't properly collaborated with Malik outside of a just-goofing-around cover of Rae Sremmurd's "No Type," the duo's already experienced the perks of Top 40 royalty. "Zayn gave us a private jet to go out once," Krept says. "He had a private jet and he just gave it to us. We're cool."
It's far from a glamorous life for the duo just yet, as they continue their hustle with a particular ax to grind: showing America that, besides the slang and accents, there's little difference between hip-hop coming out of the U.K. and the States. "Musically, I feel like Americans have only heard one or two people from the U.K., and they've made a judgment of a whole country," Krept says. Konan takes it one step further: "People [in America] are like, 'You've got hoods in England? You've got black people?'"
"Americans assume that everything over in the U.K. is just grime," Konan adds. "But when they hear U.K. hip-hop, they realize the quality of the music and the delivery of the music is very much the same as it is in the U.S. It just needs to be showcased a bit more." To see them do just that, watch Vulture's video of Krept & Konan freestyling over Biggie's "Mo Money Mo Problems" as they traverse the streets of lower Manhattan.