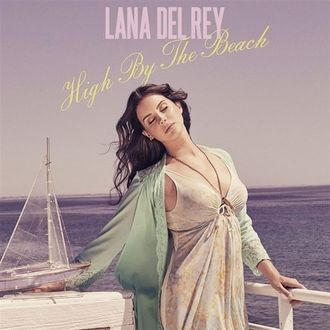 Lana Del Rey's "High by the Beach" leaked two days ahead of its scheduled premiere today on Beats Radio 1 (her label has pulled the leaks diligently). The second single from LDR's fourth album, "High by the Beach" follows her new LP's title track, "Honeymoon," a macabre ballad that suggested she had found her calling in the orchestra-backed contributions she's made to Tim Burton and Baz Luhrmann soundtracks. "High by the Beach," however, indicates something else: that Lana Del Rey hasn't abandoned her whole "gangster Nancy Sinatra" thing, and it might not want to make you cringe anymore.
After the tepid response to 2012's hip-hop-tinged Born to Die, LDR used last year's Ultraviolence to rehab her credibility via tortured-rocker-meets-torch-singer cinematic pop. With the Black Keys' Dan Auerbach producing and a Nashville band backing LDR up, Ultraviolence was in many ways a reimagining of late '60s music in which psych rock, girl groups, Phil Spector's Wall of Sound, the Velvet Underground, and Nina Simone all melded together under her more mature voice. The new direction seemed to work: Del Rey went from a fraud in a flower crown to an alt-pop heroine with a Top 20 hit ("West Coast") and critical cred. Ultraviolence is the pinnacle of a pop artist using rock 'n' roll as shorthand for authenticity, something LDR's career needed.
Where Lana goes next will be telling about what kind of an artist she really is. Back in January, she told Billboard to expect Honeymoon to be more akin to Born to Die and her 2012 EP Paradise than Ultraviolence, but also dubbed it "noirish." There was little room for the hip-hop-inspired sound of beat-driven, early career highlights like "This Is What Makes Us Girls" and "Diet Mountain Dew" on Ultraviolence. But "High by the Beach" suggests that LDR isn't done with hip-hop elements. Instead, she combines all her past styles for this one self-deprecating sliver of sonic perfection, which doubles as her evisceration of an ex-lover. Despite reaching peak Sad Girl nihilism, "High by the Beach" works as a chilled-out trap-pop single you can blast as a comedown from "Bitch Better Have My Money." "You can be a bad motherfucker / But that don't make you a man," she half-croons atop an organ in one of the song's several anthemic lines.

Honeymoon is expected out at some point next month, and "High by the Beach" hits iTunes on Wednesday, following LDR's various radio debuts of the single today.