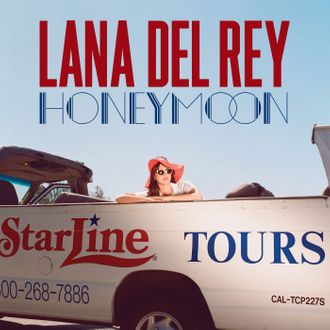 How does one top a stoner anthem with a nihilistic bent, a trap beat, and a paparazzi-obliterating video? If you're Lana Del Rey, you drop a sweeping, sax-loving, soap opera of a piano ballad that interpolates Bowie's "Space Oddity" and launch a phone hotline that plays Elon Musk TED Talks on demand. In related news, Lana Del Rey is now your dad's favorite pop star.
On "Terrence Loves You," a "jazzy" song Lana claims as her favorite off forthcoming LP Honeymoon, Del Rey admits to losing herself when she lost a certain musical lover. Naturally, she drinks when she hears one of his songs. Listen below.
As seen above, LDR also released the cover of Honeymoon, out September 18, in which the phone number for a Starline Tour can be (partially) seen. Though 1-800-268-7886 is not functional at the moment, Stereogum reported activity for a brief period yesterday. One fan even recorded Lana's Honeymoon Hotline, in which she can be heard reciting a "time is a flat circle" monologue and big-upping renowned theoretical physicist Lawrence Krauss. Listen to all that below, and just a reminder if this seems odd: LDR's more interested in space travel than feminism.