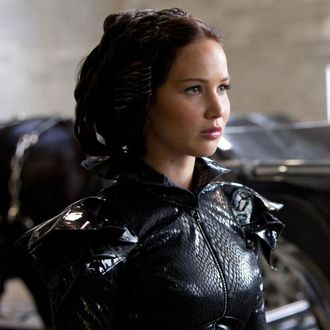 Each month, several films and TV shows leave Netflix's catalogue. We provide a list of titles leaving the platform, along with a short selection of titles that may interest you. Feel free to note anything we've left out in the comments below.
September brings sweater weather, coat season, and a whole lot of change in Netflix's offerings. The site recently announced that it would not renew its deal with Epix, which means that several big films in the cable network's catalogue won't be available online after the end of the month. In order to get you better adjusted to this brave new, Hunger Games–less world, we've broken down the key titles to stream, and when to stream them, before they leave the site.
Watch Tonight: Crouching Tiger, Hidden Dragon (2000), Jackie Brown (1997), Sleepless in Seattle (1993)
Cinderella might have had to give up one prince at midnight, but Netflix is losing three: Nora Ephron's charming rom-com, Ang Lee's sumptuous wuxia, and Tarantino's second-best work, according to Vulture's David Edelstein. In an ideal world, you'd have time to dance with all three films (and to have a brief chat with a few episodes of The IT Crowd, also leaving), but you'll probably have to pick one partner for the evening. The good news: You can't go wrong with any of the options. The bad: Time is fleeting, and every choice, once made, cannot be undone. Until Netflix buys the rights again. All three leave September 1.
Start in the next few weeks: Undeclared (season one)
For fans of Judd Apatow, choosing between his two TV babies, Freaks and Geeks and Undeclared, is like, well, choosing between two babies. Apatow made Undeclared after Freaks and Geeks and, following its cancellation, pivoted toward big-name recognition in film. Its episodes are half the length of its predecessor, and it's zippier — the characters' quirks more exaggerated, the humor more surreal. Partially, that's about subject matter: Instead of taking on the boredom and angst of high school, Undeclared tackles the anxiety and thrilling freedom of college. You can down the first season in no time, but you'll want to start on this early in the month so that you can enjoy a few repeat viewings, and also indoctrinate a few friends. Undeclared leaves September 28.
Watch by the end of the month: The Hunger Games: Catching Fire (2013), The Wolf of Wall Street (2013), Apocalypse Now (1979)
How appropriate that the big victims at end of the Netflix-Epix all deal with the dangers of unchecked ambition — from the coke-dusted halls of Wall Street, to the increasingly violent arenas of Panem, to depths of the war-torn jungle. Maybe this is a glimpse of the future, when, one day, ages hence, you might meet a traveler from an antique pop-culture website, who, in turn, relates the sight of a statue of Netflix, king of kings. "Look on my streaming offerings ye Mighty, and despair!" the statue's pedestal reads, though nothing beside it remains.
More likely, offers from other services like Amazon and Hulu have gotten more competitive and Netflix wants to focus on its original programming. Look out for that later this year. All three leave September 30.
FULL LIST OF TITLES LEAVING NETFLIX

TELEVISION:
September 1
Doomsday Preppers (season 1­3)
Ink Master (season 2)
The IT Crowd (season 1­4)
September 3
Dinosaurs (season 1­4)
September 7
Ramsay's Best Restaurant (season 1)
September 10
Crash & Bernstein (season 1­2)
September 15
Best of Teletubbies
Coach (season 1­9)
Spiral (season 4)
September 16
The Slap (season 1)
September 27
LEGO Ninjago: Masters of Spinjitzu (season 1­2)
My Boys (season 1­4)
September 28
Undeclared (season 1)
September 29
Comic Book Men (season 2)
MOVIES:
September 1
Agent Cody Banks 2: Destination London (2004)
Better Than Chocolate (1999)
Bratz: Rock Angelz (2005)
Care Bears: Big Wish Movie (2005)
Care Bears: Journey to Joke-­a-­Lot (2004)
Crouching Tiger, Hidden Dragon (2000)
Curious George 2: Follow That Monkey! (2009)
Electrick Children (2012)
FernGully: The Last Rainforest (1992)
Jackie Brown (1997)
Lock, Stock and Two Smoking Barrels (1998)
Mortal Kombat: The Movie (1995)
Patch Adams (1998)
Perfume: The Story of a Murderer (2006)
Rugrats in Paris: The Movie (2000)
Rules of Engagement (2000)
Rumpelstiltskin (1987)
Sarah's Choice (2009)
School of Rock (2003)
She's the One (1996)
Sleepless in Seattle (1993)
The Lost Boys (1987)
Total Recall (1990)
W. (2008)
September 2
Cheech & Chong's Hey Watch This (2010)
September 4
Delta Farce (2007)
September 5
Marilyn in Manhattan (2012)
September 9
Bratz: Friendship Is Always in Style (2014)
Kicking It (2008)
September 10
100 Below Zero (2013)
Becoming Chaz (2010)
War Witch (2012)
September 13
High Fidelity (2000)
September 14
Corky Romano (2001)
September 15
Bratz the Video: Starrin' & Stylin' (2004)
Valhalla (2013)
September 16
Hank: Five Years From the Brink (2013)
September 20
Reporter (2009)
September 22
National Geographic: Inside Guantanamo (2009)
National Geographic: The Battle for Midway (1999)
September 26
Indy 500: The Inside Line (2011)
Lethal Force (2011)
Ron White: A Little Unprofessional (2012)
September 29
Bratz: Desert Jewelz (2011)
Coriolanus (2011)
September 30
Anchorman 2: The Legend Continues (2013)
Apocalypse Now (1979)
Hercules (2014)
If I Stay (2014)
Jack Ryan: Shadow Recruit (2014)
Jackass Presents: Bad Grandpa (2013)
Nebraska (2013)
Saved! (2004)
Star Trek: The Motion Picture (1979)
Star Trek Into Darkness (2013)
The Expendables 3 (2014)
The Good Guy (2010)
The Hunger Games: Catching Fire (2013)
The Prince (2014)
The Skeleton Twins (2014)
The Wolf of Wall Street (2013)
Transformers: Age of Extinction (2014)
World War Z (2013)