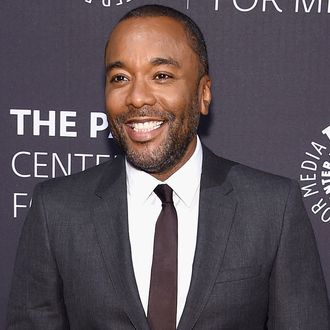 Lee Daniels land?
Photo: Mike Coppola/Getty Images
Empire co-creator Lee Daniels is already working on his next project for Fox, and it'll be set in the music world — but don't call it a spinoff. The network is developing an hour-long soap from Daniels called Star, which will trace the rise of a three-member, Atlanta-based female singing group trying to become superstars. According to Fox Entertainment co-chief Dana Walden, who announced the project Thursday at the network's portion of the TV Critics Association summer press tour, both Star and Empire take place in the "modern-day music business," which means "the possibility of a crossover exists" between Daniels's two shows. "But that's not Lee's intention" — at least not right now, Walden told reporters. Empire co-creator Danny Strong is not involved in Star, which Walden says will borrow elements from Daniels's own life (much like Empire). "There's a lot from Lee's own life baked into the DNA of this project," she said. Star will also explore some of the same themes tackled by Dreamgirls and take inspiration from the real-life stories of contemporary girl groups, which have been manufactured by the music business. "It lends itself to a great, soap-operatic TV show," Walden said.
Meanwhile, in other Fox development news, the network confirmed months of rumors that Prison Break could return, confirming that writing has started on a new event series picking up where the original series left off. The network is also working on a contemporary remake of the 1980s John Travolta feature hit Urban Cowboy.