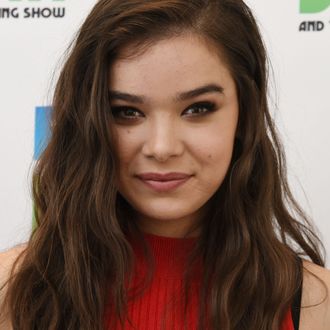 Prepare to be surprised.
Photo: Ilya S. Savenok/Getty Images
Hailee Steinfeld has an unusually long résumé for a teenager: The 18-year-old got an Oscar nomination for her role in 2010's True Grit (which she earned at 14), has modeled for Miu Miu, and is part of Taylor Swift's girl gang (she played the Trinity in Tay's "Bad Blood" video). That last bragging right seems to have inspired her latest career move. Earlier this year, Steinfeld added "singer" to her multihyphenate job title with a starring role in Pitch Perfect 2, and she hopes to make music more than just a hobby with a freshly inked record deal with Republic and a debut album in the works. After wooing the tween crowd beside Vine star Shawn Mendes on the acoustic reworking of his hit "Stitches," she's here to establish a fandom of her own with her album's first single, "Love Myself."
If it sounds like Hailee's doing an impression of Taylor Swift covering Kendrick Lamar's "i," you're not just hearing things. There's a glaze to Steinfeld's vocal style on the track that's unmistakably Swift-influenced, while the song's uplifting message cribs Kendrick's down to the shout-sung, "I love me!" hook. Kendrick was suggesting self-love as a viable response to a perceived global hatred of blacks, but Hailee's message more closely aligns with that of Selena Gomez's "Good for You": Just as Gomez finds a way to raise a glass to her sexual freedom with lyrics that trick you into thinking she's toasting whichever dude you assume she's sleeping with, Steinfeld, too, celebrates a sexual awakening. "I know how to scream my own name," she announces, having figured out — like so many women ultimately do — that sometimes the best touch is your own. Charli XCX snuck a similar discovery on "Body of My Own," a cut from last year's Sucker that had her finally putting a stop to a lackluster sexual relationship; she realizes that instead of relying on a partner to satisfy her carnal needs, "I can do it better when I'm all alone." Applause.
Steinfeld slyly made her ode to masturbation just subliminal enough to fly over a less-involved parent's head, and its sugary TeenNick-appropriate production probably won't raise any suspicions either. (But you can trust that Tumblr will waste no time pointing that out.) If "Love Myself" means the industry might finally let young female pop-stars stop pretending that men are the only way they can get off, then Hailee Steinfeld might've just thrown her name into the conversation about pop's new feminist generation. How proud must Taylor be?