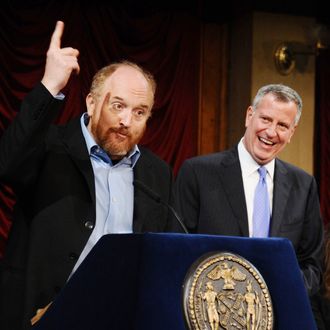 Louis C.K. and Mayor de Blasio at a roast earlier this year.
Photo: Ilya S. Savenok/Getty Images
According to the New York Times, Louis C.K. is currently following New York City mayor Bill de Blasio around for two days — with his permission — on official comedy business. So far, C.K. has traveled with Hizzoner to an appearance in Brownsville, and attended a state budget board meeting where de Blasio was giving a speech. It's all research for a vague comedy idea that still appears to be in its embryonic stages. As C.K. told the Times, "I don't know what it is yet. I'm just messing around with something, and we'll see how it goes." In the absence of any more information, let's get to speculating the ideal project that could grow from this. A Bill de Blasio biopic? A The Thick of It–style satire about a beleaguered New York City mayor? A 13-hour mockumentary called #DeBlasiosNewYork? Either way, as a trade, hopefully C.K. will give the mayor pizza-eating lessons.