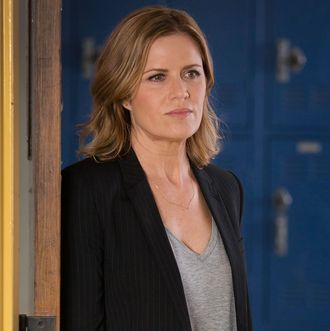 When Fear the Walking Dead premieres Sunday, it'll be with one major chasm in credibility: I don't buy for a second that Kim Dickens' character is named Madison.
The character's age is not perfectly established in the first two episodes, but the show is set in more or less the present day, so let's assume Dickens is playing a character around her actual age, which is 50. According to the Social Security Administration, there are at most four women named Madison who were born in 1965. (The data only cover names with at least five entries; Madison does not appear on the list.) There were 35 boys named Madison in 1965. The name doesn't appear on the list for girl babies at all until 1970, when five — this is nationwide! — girls were named Madison. It peaks with six girls later in the '70s, then falls off the list for a bit, sometimes creeping back in with five.
And then Splash came out in 1984. Madison doesn't appear on the girls' list again until that year, with 42 she-Madisons. Then up it climbs: 299 in 1985; 645 in '86; 750 in '87; 821 in '88; and 1,223 in '89. The name peaked in 2001 as the second most-popular girl's name in the country, with 22,158 Madisons born that year. (Plus 581 Maddisons, 49 Madissons, 27 Maddisens, 21 Maddysons, 19 Madissens, 19 Madisuns, 17 Maddisyns, 17 Madisans, 11 Madisynns, 10 Madisins, and 5 Maddysens.) Fear the Walking Dead is set in California, so let's assume our character was born there. The first time Madison appears on the Cali-only list is 1984, when six girls were given that name. That's the same number who were named Madonna that year.
So what would Dickens' character be named? Well, Kim, probably: It was the fourth most popular name in 1965, and didn't drop from the top five until 1974. Lisa, Michelle, Karen, Jennifer, Julie, Mary, Susan, Amy, Heather, Nicole, Angela, Stephanie, Tammy, Laura, Christine, Shannon — yes. Hell, there were 17 baby girls named Winona in California in 1971. No Madisons, though.