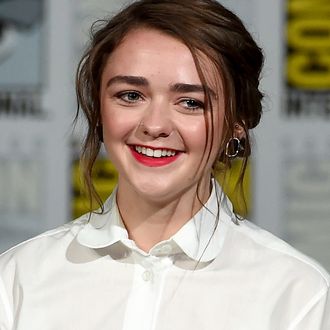 Photo: Ethan Miller/Getty Images
Speaking candidly in a London Evening Standard profile, 18-year-old Game of Thrones star Maisie Williams wants people to know she's fed up with the state of women's acting roles in Hollywood. They need to evolve. Understandably, the actress, who plays Arya Stark, thinks it's time Hollywood got over the shallow "hot piece" and "girlfriend" characters. Why? She says they're unrealistic; "hot" isn't who a person is. Also, there are too many of these roles floating around as one-dimensional casting calls.
Here are her thoughts in full:
There are a lot of roles that come in that are "the girlfriend" or "the hot piece" in a movie or TV series. … That's something I've seen first-hand and read all the time. It will say "Derek: intelligent, good with kids, funny, really good at this," and then it will say, "Sandra: hot in a sort of cute way" — and that's all you get. That's the way your character is described, so going into an audition you are channeling "hot," which isn't like a person, that's not who a person is. That's what I see and that's what needs to change. I've been lucky enough to play a very great female character from a young age, who is a fantastic role model for girls.

I just hope that if we stop playing those characters, they'll stop being written. … [Laughs.] It's a very big thing to say for me, on behalf of all the women in this industry.
You can read the rest of the interview, in which Williams also talks about her boyfriend (briefly), her upbringing, her next moves, and the bad rap teens get, here.