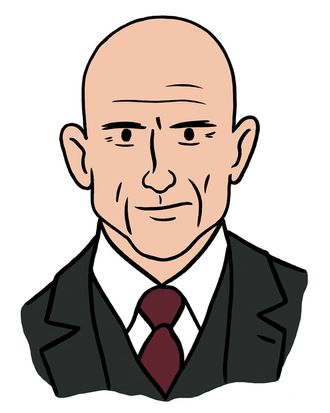 The actor makes his Broadway debut this November in A View From the Bridge.
Photo: Illustration by Pete Gamlen
Olivier Award–winning British actor Mark Strong — square of jaw, piercing of gaze — is known Stateside for playing elegant, slightly sinister supporting characters, but he'll be center stage in his Broadway debut this November, as Red Hook longshoreman Eddie Carbone in the Young Vic's production of Arthur Miller's A View From the Bridge. He spoke about finding Eddie, working with suddenly-everywhere director Ivo van Hove, and the British tradition of being a bad guy.
This is a potentially odd match: a British cast, an experimental Belgian director, and a quintessentially American play. What convinced you to get involved? 
I was at home reading movie scripts, and in the pile was A View From the Bridge. It was head and shoulders above everything else. I realized what a fascinating character Eddie is and just thought, I have to do this. When I was told it was with a Belgian avant-garde theater director, I thought, Well, okay, maybe this isn't going to be what I think.
What makes van Hove's approach so unique?
I've learned from him that a lot of time's wasted in the theater by pretending that what we're watching is real. We all know it's not real! So trying to pretend it's real is the wrong path to go down. And that crystallized for me in a moment in rehearsal when Beatrice asks Eddie, "What time is it?" And he says, "Quarter to nine," and I remember thinking, Oh, I'll have to have a watch at this point. I told Ivo that, and he said, "Why? It doesn't matter how you know what the time is; all we're interested in is what the time is."
So you didn't get hung up on learning any Brooklynese?
It doesn't matter that the Italians don't have Italian accents — we're not interested in how Italian they can make them seem, we're interested in what they've got to say. That's the success of the production: It doesn't patronize the audience; it's very clean and clear, and, as a consequence, the brutality of it really sings out.
How did you ultimately prepare for playing Eddie?
I was making an independent movie in upstate New York about a guy on his way to Mars, and for five weeks I lived in a little cottage in the Hudson Valley on my own. Every day I would drive to a warehouse and be an astronaut, and in the evening I'd go to my place and learn the play's lines. It was intense. I lived that time with Eddie Carbone.
The Jaguar "Villains" commercial you starred in with Ben Kingsley and Tom Hiddleston is pretty amazing. Has it changed the kind of roles you get?
For British actors, there's a path to Hollywood through villainy: Anthony Hopkins, Jeremy Irons, Alan Rickman. Our heroes are Richard the Third and Macbeth and people who may have done unspeakable things. I enjoyed playing villains, but I've been playing some good guys lately. And next up is a comedy with Sacha Baron Cohen, for something completely different.
*This article appears in the August 24, 2015 issue of New York Magazine.