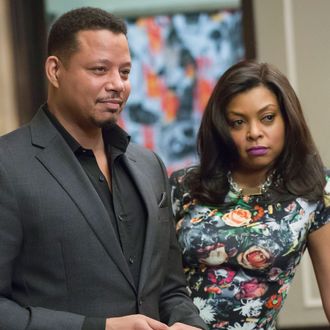 And another one …
Photo: Chuck Hodes/FOX
The lawsuits just keep on coming for Marvin Gaye's family: TMZ reports that Gaye's son, Marvin Gaye III, plans to sue Lee Daniels and Fox over Empire. If you're scrambling to think of a song performed on the show with that Marvin Gaye "vibe," it's not a music copyright issue this time around. You're safe for now, Charlie Puth.
Gaye's son is claiming he came up with the concept for Empire years ago, and went so far as to register a show, described as a music-based, black version of Dynasty meets The Sopranos, under the name Diamonds & Ballads, with the Writers Guild of America in 2010. Gaye's son says that someone in Daniels' camp stole the show's premise from pitch emails sent to networks around that same time. His evidence: Daniels having previously called Empire the "black Dynasty" and comparing it to The Sopranos when Fox originally picked up the show.
According to TMZ, Gaye III will file a lawsuit shortly against Daniels and the network. Our expert legal advice? Study everything Robin Thicke did, and do the opposite.