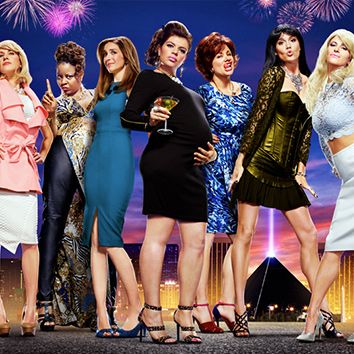 The Hotwives are back with a new cast of characters to the city where dreams and fortunes are made every day, and crushed every day — Las Vegas! Take our catch-up course and meet a fresh batch of Hotwives — loving and clawing their way through Sin City with smiling faces because the Botox won't let them frown. Brace yourself for double the drama, triple the heartbreak, and seven times the fake boobs. Catch the season premiere, now streaming only on Hulu.
Season 2 Trailer
Jenfer
Denise
Phe Phe
First Lady
Callie
Ivanka
Leona
TV Refresher Course

Season 2 Trailer
Season 2 Trailer
Yank the one-armed bandit and blow on the dice, because luck be a Hotwife. Check our a preview of Season 2 and watch The Hotwives of Las Vegas only on Hulu.
Jenfer
Jenfer
(Casey Wilson)

A cocky Southern woman with a handicap, Jenfer wasn't sure she would ever find love. She talks about her lifelong, crushing disability — missing the top of her finger — and how deeply in love she is with her husband-to-be, Ace. Jenfer is very pregnant, but insists she's not because that would mean she cheated with Ace when he was still with First Lady, and she would never do that to her friend.
Denise
Denise
(Danielle Schneider)

A former showgirl — known as the most covered-up showgirl in Vegas — Denise gave up her career when her daughter was born so that she could look after the nanny looking after her daughter. Now that her daughter is older, Denise is looking for fun and love. Neurotic, needy, and a bit of a hypochondriac, she's new to this group of ladies but always excited to make new friends, since her old friends got annoyed with her and stopped calling.
Phe Phe
Phe Phe
(Tymberlee Hill)

Everyone's favorite character is back! She's moved to Vegas because of better ratings — and we will see a new and improved, bigger and badder Las "Phe Phe" Vegas.
First Lady
First Lady
(Angela Kinsey)

Hanging onto her title, she's the former first lady of Las Vegas. Her husband was mayor of the Vegas strip, when he died three years ago from a heart attack. An uptight snob, First Lady feels she knows better than everyone else and is the epitome of class.
Callie
Callie
(Erinn Hayes)

Callie moved to Las Vegas after divorcing her husband because of religious differences — he's Catholic and she's a witch. She also moved to be closer to her brother, Vance Storm. They used to share the same bed when they were little, and she misses that. They also used to do the bubble act together, and she hopes they can get the show back together (and also spend every minute of the day with him).
Ivanka
Ivanka
(Andrea Savage)

A sexy blonde European ice-princess and former model, Ivanka is married to the hottest act in Vegas, Vance Storm: Bubble Artist. They are the "It Couple" of Vegas, and she worships him. She's excited about her daughter's burgeoning modeling career and loves that she is following in her mother's footsteps. She's also happy that her sister-in-law, Callie, has moved to town, but admits she's a little nervous about introducing her around because she's different in a "weird, unappealing way and that can put people off."
Leona
Leona
(Dannah Phirman)

The elder, ball-busting, no-nonsense matriarch of the group, Leona is hard at work as the owner of a strip club Las Vegas magazine voted "best buffet." As the self-proclaimed peacemaker of the group, Leona's wish is that all the ladies just get along because they're stronger together than they are apart. "What can I say? I'm an advocate for women," she tells us, before screaming at a stripper to get back to the pole because her two-minute break is over.