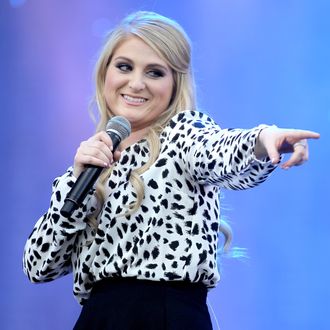 MTrain.
Photo: Isaac Brekken/Getty Images
Meghan Trainor announced via social media Tuesday that the rest of her North American MTrain Tour has been nixed. Because of persisting vocal-cord troubles, the singer's doctors have reportedly urged her to stay off the stage and turn to surgery. "I am devastated, scared, and so sorry," she wrote on Instagram. "I am determined to do what it takes to get better and come back around stronger than ever." The status of her tour began to look iffy last month, when the singer canceled her two kickoff shows because of a vocal-cord hemorrhage. In both instances, Trainor was very apologetic and promised to make it up to those who bought tickets.
Here's her latest message for fans and concertgoers:
The tour was supposed to run through September, with the next stop at the Indiana State Fair. Those who purchased Trainor tickets for the Indiana appearance are eligible for a refund, the Indy Star reports — via the outlet the tickets came from. Once again: Really, get well soon, MTrain.