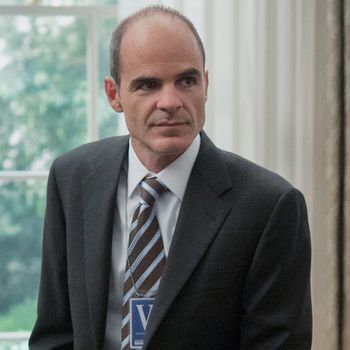 Photo: David Giesbrecht/Netflix
As the Emmys approach (September 20), Vulture reached out to some of the nominees to talk about the episodes they submitted for consideration. Today, House of Cards' Michael Kelly walks us through Doug Stamper's season-three transformation, and the day he found out he was nominated for his first Emmy for Outstanding Supporting Actor in a Drama Series.
The Episode: "Chapter 27"
Going into House of Cards' third season, fans were left with a crucial cliff-hanger: Was Doug Stamper alive? We last saw Frank Underwood's chief of staff and go-to henchman lying in the middle of the woods, having been bludgeoned with a rock by his captive, Rachel Posner, and presumably left for dead. The season opener revealed that while Stamper had survived the attack, he'd suffered a severe brain injury that would require months of rehabilitation away from the White House corruption he thrived on. The blow to his head weakened Stamper's physicality, his morale, and his willpower as a longtime alcoholic.
It was a newer, more vulnerable side to Stamper than the character Kelly had been accustomed to playing. "He sort of became another person, or you saw another side of him — a life that he could lead in the third season," he says. To present a faithful portrayal of what actual survivors of such an attack experience, Kelly spent the month and a half before production reading up on traumatic brain injuries and their effect on a person's psyche. "I had to put more work into — and this sounds weird — re-creating Doug Stamper," he recalls. "Because I did end up playing different characters, so to speak, than I had in the prior two seasons." The season's first episode follows Stamper mostly on the road to recovery, tended to by his brother, along with his niece and nephew (played by Kelly's real-life kids), until he relapses and starts drinking heavily again.
That breakdown, Kelly says, was the first thing showrunner Beau Willimon thought of when recommending an episode for Kelly to submit for Emmy voting. "I went up to Beau and was like, 'Hey, man, which one do you think I should submit? Beau thought about it for a while, and then he got back to me and was like, 'Definitely the first one. It's your recovery, and then there's that killer shot with the syringe. You gotta go with that,'" he laughs. Willimon was also the one who broke the news to Kelly that he'd received his first Emmy nomination. Kelly had been filming a scene on the show's Maryland set of the Oval Office for the fourth season when Kevin Spacey motioned for Kelly and a few others to come to his trailer to watch the nominations livestream. When it was over, with both Spacey and Robin Wright picking up nominations in lead-acting categories, Spacey suggested he check online for the rest of the nominations. "I was like, 'Kevin, I don't think it's gonna happen,'" Kelly says.
It wasn't until the cast was called back to the set that Kelly got a pleasant surprise: Just before they were about to film, Kelly says Willimon paused to congratulate the cast and crew on the show's 11 nominations. That's when he began to applaud individual cast members, starting with Spacey and Wright. "Then he said, 'And you.' He pointed at me," Kelly remembers. "I was like, 'What?!' He said, 'You!' And I was like, 'Oh my God!' I cried, I'll totally admit it. I got on the phone with my wife, my mom and dad. Then all day I had to go back to being Doug Stamper, which was tough because I was either laughing or crying the entire day."