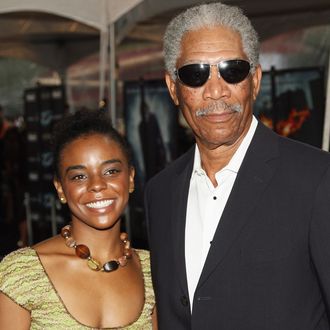 Hines and Freeman.
Photo: Stephen Lovekin/Getty Images
Morgan Freeman is mourning the death of granddaughter E'Dena Hines, who was stabbed to death in Manhattan over the weekend. Hines was killed in front of her Washington Heights apartment early Sunday morning; her boyfriend, Lamar Davenport, was charged with murder and taken for a psychiatric evaluation. Hines was the granddaughter of Freeman's first wife, Jeanette Bradshaw, and had recently moved back to New York City to act in an independent film. "My dream has come true and its just beginning," she wrote on her blog last month. "Life can make you want to give up or walk away; sometimes it gives you the strength to appreciate when you do get your happy ending."
In a statement, Freeman praised Hines as an undiscovered artistic talent: "The world will never know her artistry and talent, and how much she had to offer. Her friends and family were fortunate enough to have known what she meant as a person." In a separate Facebook post, he thanked fans for their support after Hines' "senseless and tragic" death.