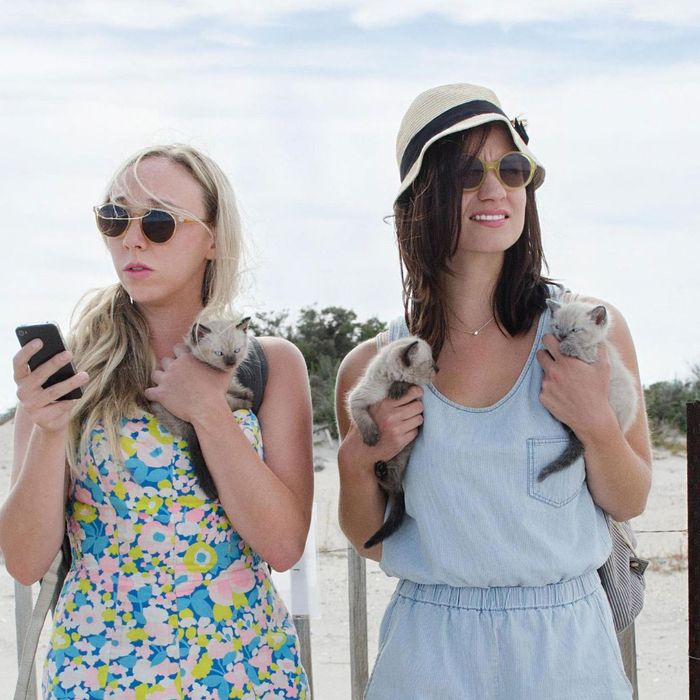 In the cheerfully caustic comic odyssey Fort Tilden, two privileged, 20-something Williamsburg slackers, Harper (Bridey Elliott) and Allie (Clare McNulty), decide they deserve a day off from doing nothing and head across Brooklyn in their rompers on bikes to the beach at Fort Tilden, where they plan to meet up with cute guys (Jeffrey Scaperrotta and Griffin Newman) they chatted with at a rooftop concert and take molly and get laid. The movie is broad and mean and for a while very funny, but even when it goes sour — when the world slaps them in the face for their sins — it doesn't lose its momentum.
Directors Sarah-Violet Bliss and Charles Rogers keep the timing brisk and have the taste to make even their whiniest, silliest characters deliciously whiny and silly. I loved the toxically dweebish neighbor (Neil Casey), the dealer–cult figure of Prospect Park (Peter Vack), the pair of insufferably do-gooding teachers (Desiree Nash and Becky Yamamoto), and the final foursome at Fort Tilden. There are so many trenchantly observed hipster types that it's a surprise when a bit actually misses.
Elliott's Harper is a wonder when she's mocking people for their sincerity and almost as amusing when she finds herself the butt of the universe's jokes and howls her incomprehension to the heavens. McNulty's bifurcated Allie abets her beautifully. She plans to escape her useless life by going to Liberia with the Peace Corps, but the way she blows off an important meeting so she can go to the beach — lying outlandishly to the woman in charge of her program — is a perfect example of a two-pronged joke. She stays a gonzo child and loses big.
*This article appears in the August 10, 2015 issue of New York Magazine.