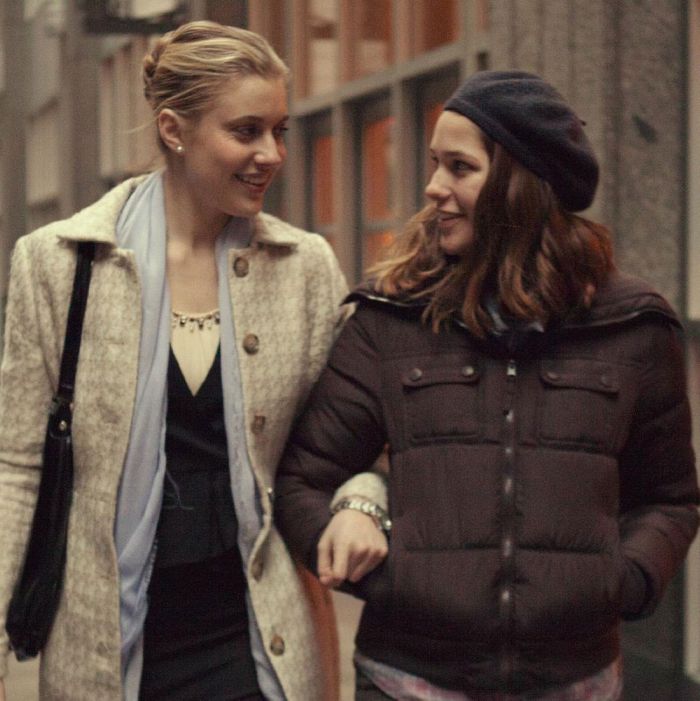 Greta Gerwig and Lola Kirke in Mistress America.
The latest collaboration between Noah Baumbach and Greta Gerwig is Mistress America, in which Gerwig plays Brooke, a manic-depressive pixie — a combination of optimist and injustice collector, like Auntie Mame if she'd suddenly decided her party guests were out to screw her over. She's viewed through the eyes of her soon-to-be stepsister, Tracy (Lola Kirke), a college freshman who sees her as material for a short story that will get her into the school's prestigious literary society. Tracy isn't just an artist-vampire — she's kind of smitten with Brooke. But she knows that, as a writer, she can't let such an interesting specimen go by. (I wonder if Diablo Cody — whose real first name is Brook — was an inspiration.)
Mistress America is hit-and-miss. It's not as burdened by blame as other Baumbach films — Gerwig leavens him. But it's labored. The chattery characters talk past one another the way they do in stage comedies, and the editor jumps from close-up to close-up to underscore the loopy non sequiturs. The overlong last act feels especially stagebound. It takes place at Brooke's rich ex-fiancé's fancy Connecticut house, where she has gone — dragging Tracy, Tracy's almost-boyfriend (Matthew Shear), and Tracy's almost-boyfriend's ultraclingy girlfriend (Jasmine Cephas-Jones) — to plead for money to help her open a combination coffeehouse, salon, and hipster community center. That's a big step, since her ex-fiancé is married to her ex–best friend (Heather Lind), who stole Brooke's idea for a T-shirt design. (A couple of miscellaneous bystanders pipe up, too.) Farce with a vein of pathos sounds good in theory, but it's middling funny at best, and you can see the harsh climax limping toward you for about an hour.
A few scenes are the right blend of funny and squirmy. In one, an old high-school classmate accosts Brooke and Tracy in a bar and rails at Brooke for having been a hurtful bully. She's a nut, but she's right that Brooke is missing something in the empathy department. The movie's tangle of sympathies suggests the influence of Gerwig, an actress who wants to give every character a moment to shine.
*This article appears in the August 10, 2015 issue of New York Magazine.