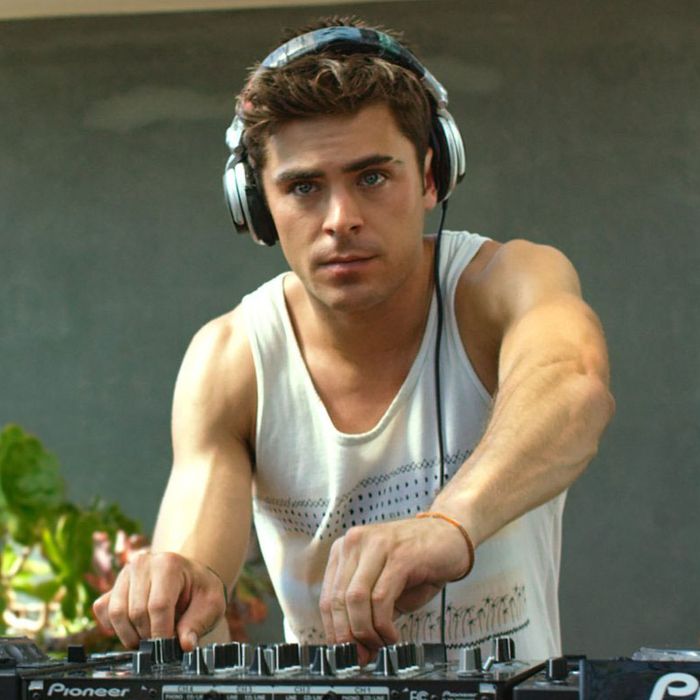 Zac Efron, mixing with aplomb.
Photo: Warner Brothers
God help me, I liked The Zac Efron DJ Movie. A kind of variation on Saturday Night Fever set in the world of electronica, the film follows a young disc jockey torn between two worlds — with ambition and romance on the one side, and his loyal, scrappy friends on the other. It's all big, dumb, broad strokes, with plot points visible from miles away. But it works where it matters: The music is fantastic, and the film invests you in its central relationship.
Somewhat surprisingly, that relationship is not between aspiring DJ Cole Carter (Efron) and Sophie (Emily Ratajkowski), the beautiful Stanford dropout he falls for one night. Nor is it between Cole and his best pal, Mason (Jonny Weston, terrific), a wild-eyed free spirit always looking for an angle, or his other friends, actor–drug dealer Ollie (Shiloh Fernandez) and Squirrel (Alex Shaffer, in the Turtle role). Instead, the film focuses on Cole's friendship with James Reed (Wes Bentley), an older, way more successful DJ wallowing in bitterness, snobbery, and alcoholism, but who takes a liking to this fresh-faced kid and agrees to mentor him.
James also happens to be Sophie's live-in boyfriend and employer, so you know the bromance is headed toward betrayal — but before it gets there, The Zac Efron DJ Movie establishes a nice rapport between the boy and the man. Cole believes that, in order to achieve success as a DJ, he needs one track — one original track that he's created and that can become his signature piece. One could compare this with Mia Hansen-Løve's Eden, the (masterful) French film about DJs that opened earlier this year. Hansen-Løve's film showed the hard work and alienation — the grind, really — of bringing fleeting moments of joy to people. It drifted along across the years, luxuriating in the aimlessness of its characters' lives. That's France for you, I guess. The Zac Efron DJ Movie has no time for such nuance. It's pure American can-do hokum — all goals and glory. It's a movie about getting to that one track, and the doors of happiness that will open up for you.
And that's the level on which it works best. Bentley is clearly having a great time playing an EDM Obi-Wan with a mean streak, railing against the kids today and their hashtags while dispensing wisdom about everything from drugs to music to life in general. He gets to utter lines like, "Sounds have soul. Build them from scratch … Get your head out of that laptop." Or: "You haven't been alive long enough to know the meaning of the word irreparable. But at some point in your life there'll be things that will finish you! And there won't be a damn thing you can do about it!" I'm not sure Hologram William Holden could have said that any better than Bentley does here. The dialogue may look dopey on the page, but onscreen, it's kind of earnest and adorable. Cole has to suffer before he can understand the true meaning of his art and find his way to greatness. It's the Hero's Journey with turntables, only it's laptops because nobody uses turntables anymore, apparently.
Efron is his blank-faced self for most of the film. In previous movies, that placid, angel-eyed expression has been either his great failing or his great asset. Emotions, when he tries to express them in his roles, tend to come off as insincere. This lent That Awkward Moment an extra level of creepiness that felt wrong for a romantic comedy; but it worked extremely well in Neighbors, playing off against Seth Rogen's accelerating agitation. Here, it feels at first like a mistake: There's actually a brief animated sequence at one point, when Cole is tripping on PCP, and the animated Zac Efron seems to have more range than the real Zac Efron. But it turns out that's part of the plan — or at least, it appears to be. Cole has to do a lot of reflecting and reacting in the film, as he absorbs both James's lessons and the missteps of his own life. By the end, when our hero finally cuts loose, the whole movie comes together. I couldn't help but smile.