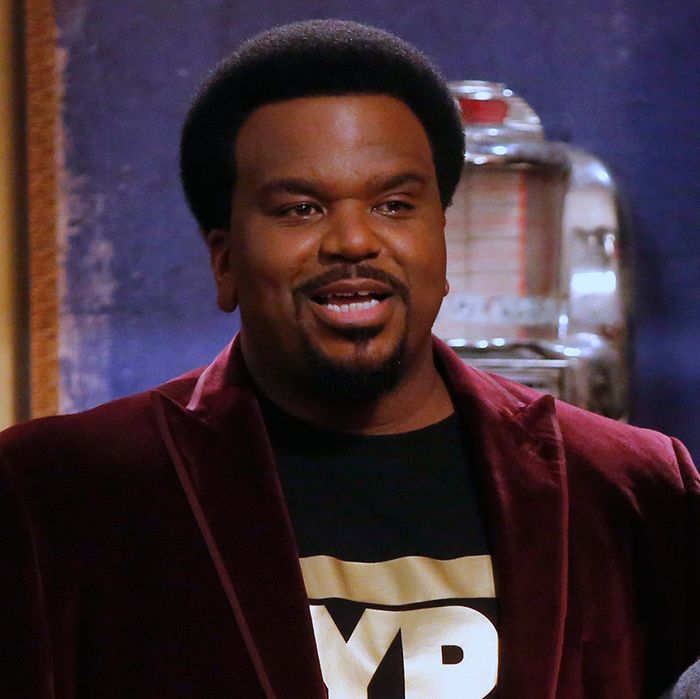 Craig Robinson as Craig Robinson (left), Brandon T. Jackson as Ben Robinson.
Photo: NBC
I like Craig Robinson a lot, and I wish his self-titled NBC sitcom about a small-time Chicago musician and substitute teacher were better. Created by Office writer-producer Owen Ellickson, executive produced by Greg Daniels, and overseen by Mark and Robb Cullen, screenwriters of the lamentable Cop Out, Mr. Robinson is not great, not bad; it's just okay. Twenty years ago, a show like this might've run for four seasons, because most people treated TV as an appliance and didn't especially care what flickered across their screens as long as it was competently executed and either awful or not too intellectually demanding. This one hits the old-broadcast-network sweet spot, and unfortunately that means it's not good enough. Except for some game attempts to diversify the supporting cast, a handful of likable musical numbers, and a few sexually tinged lines that seem discordant only because this is an NBC sitcom that can't commit to being really sexy, Mr. Robinson feels too much like a likable not-quite-there sitcom, one that was burned off during summer because the network didn't think it was special enough to compete in the fall. (You never know, though: Come fall, NBC might wish they'd held onto it.)
Most of the episodes start with Robinson (whose character is inevitably named Craig Robinson) performing a musical number at a local bar where he and his buddies are the house act. Fans of The Office already appreciate Robinson's semi-parodic tunes, and they're a consistent highlight here, even though aficionados of his stand-up will wish they were raunchier, more impassioned, and more, well, soulful. "There's no confusion/about sexual fusion," one begins. There's a song in the pilot about chocolate muffins that Craig insists really is about chocolate muffins and not sex, which is obviously what it's about, come on now, Craig. The low point is any scene in the faculty lounge at Studs Terkel High School, where Craig substitute-teaches music to get close to his old high-school flame Victoria (Meagan Good), whom he stood up on prom night. The writers have gone out of their way to turn the teachers into a bomber crew of eccentrics who, like Craig, all have vastly more satisfying alternate personas: There's an Indian-American climate-change obsessive/inventor (Asif Ali), a white, blonde stripper (Spencer Grammer), and … okay, fine, the macho, clueless gym teacher in too-short shorts (Benjamin Koldyke) is mainly just a gym teacher in too-short shorts, although he did play tennis professionally from 1989 to '91.
And of course there are guest stars, a few of whom make an impression. The best is Gary Cole, who plays a legendarily decadent British music producer that Craig and the gang hope will land them a record deal — though here, as elsewhere, the show seems frustrated by its inability to be as sleazy as situations require.
Mr. Robinson's disco-era title font, stock-footage shots of L-train tracks, and subterranean-low-stakes plotlines evoke such post-Vietnam sitcom touchstones as Taxi, WKRP in Cincinnati, Welcome Back, Kotter, and Barney Miller. For the most part, though, the show never manages to match the warmth, precision, and genuine oddness of those great comedies. It's all just a pantomime of knowingness. Robinson is playing the "calm center of the storm," à la Judd Hirsch on Taxi, although there are times when his mix of cool detachment and sly horndog smoothness has a Tim Reid vibe. He's an original. Maybe somebody someday will figure out what to do with him.