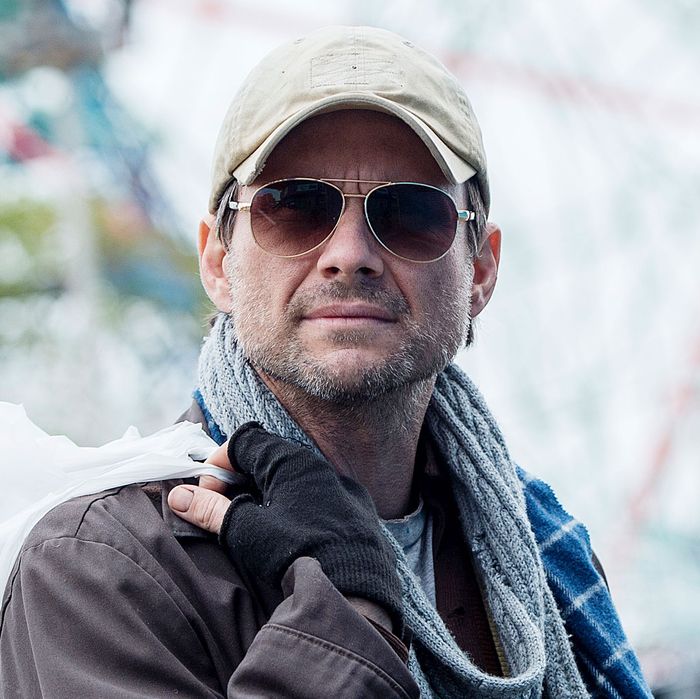 Christian Slater as Mr. Robot.
Photo: David Giesbrecht/USA Network
Here's one big mystery that won't be resolved by the season-one finale of Mr. Robot, set to air next Wednesday: How in Monk's name did a show so complex, twisted — and critically acclaimed — end up on USA Network? The cable giant has been cranking out summer hits for more than a decade, but starting with the aforementioned Tony Shalhoub vehicle and continuing with series such as Psych, Covert Affairs, and the still-chugging Royal Pains, those successes have mostly been popcorn procedurals, the video equivalent of beach reading. Mr. Robot, by contrast, may be TV's most beautifully byzantine mystery-thriller since the first season of Lost, a show that encourages its audience to debate subtext and obsess over detail. It's all very much off-brand for USA, and as execs at the network see it, that is exactly the point.
Officially, Mr. Robot came to life at USA a year ago, last summer, when network president Chris McCumber gave creator Sam Esmail the green light to begin casting and filming a pilot episode. McCumber, who credits USA development chief Alex Sepiol for "unearthing the project and putting it in front of" him, says he and his team were sold on the idea as soon as they read the script. "We realized we had a very, very unique show, which, if executed the right way, could be like nothing else on television," he says. And yet, Esmail's idea likely would never have gotten very far at USA had McCumber and his bosses not decided many months earlier that the network needed to shake up what had long been a winning formula for it. "We've been going through an evolution of our brand for a little while now," the exec says. While USA has maintained a strong position relative to its competition — it finished 2014 as the most-watched general-entertainment cable channel — the network has suffered the same audience erosion plaguing most big, established cable networks: Viewership at USA fell more than 20 percent last year.
The dramatic increase in scripted competition has obviously had an impact, as has the move by consumers away from linear viewing and toward on-demand consumption. But McCumber believes there's also been a significant shift in the kinds of programs audiences want, particularly the young viewers coveted by advertisers and thus targeted by USA. "We're looking at changes in the demo, with [viewers] 18 to 49," McCumber explains. "Millennials now make up the largest portion of that demo [and] are very sophisticated about the way they watch television. And now, if you look at the entire audience, they've all become very sophisticated about the kinds of dramas they want to see: more serialized, more characters that come from the real world and face real problems." Or, in other words, not the easy, breezy, self-contained stories for which USA had become known.
Indeed, long before Mr. Robot booted up, there was plenty of evidence that the lighthearted, quasi-disposable entertainment on which USA had built its success — what it and industry observers called "blue skies" TV — was fading. Shows that once might have been a slam dunk on USA — the 2012 buddy-cop show Common Law, or last year's medical show Rush — ended up axed after a single season.
McCumber says the evolution of USA's brand "started with Suits and Graceland," with the network telling Hollywood agents, producers, and writers that it was looking for something different from what had worked for it in the past. In addition to being open to continuing story lines or somewhat darker themes, "We've been very specific: We're trying to find dramas that center around unlikely heroes, rebels with a cause in extraordinary circumstances," he says. USA is okay with some of these heroes having significant flaws — Rami Malek's character in Mr. Robot, Elliot Alderson, is certainly less than perfect — as long as they've got something of a higher calling. "[What] it comes down to is: Is that unlikely hero trying to do something for the good?" McCumber explains. "We call it a silver lining. If you look at Elliot, even though there are some dark things that happen in Mr. Robot, the character says several times, 'I'm trying to change the world.' He believes by hacking his friends, by creating FSociety, by trying to take down Evil Corp, he's doing good in the world. And that's what we look for: At the heart, is the character trying to do good, even though they might make some questionable decisions, or make some decisions that are a little grayer than 'blue sky'?"
While USA isn't known for doing particularly genre-smashing programs, McCumber says it hasn't been difficult to find writers such as Esmail willing to trust the network when it says it wants to color outside the lines. "We have a long history of creating very successful shows, and that track record is a real calling card for us," he says. "When you come to USA, you've got a very good chance of having a successful launch or series with us." That was no doubt appealing to first-time showrunner Esmail and his agents at ICM Partners. Likewise, USA execs were just as enthusiastic about getting into business with Esmail, despite his relative lack of TV experience. What impressed them most, McCumber says, is how Esmail already had a long-term plan in place for the show. "When he came in to pitch Mr. Robot, he already had several seasons figured out," the exec says. "What gave us such confidence in Sam was, he had a very specific vision for the series and where it would head over the next few seasons. That gave us a lot of confidence that he knew what he was doing, and that he had something that would be able to be a long-term asset for USA."
Still, there's a big gap between a network having hope and faith in a creator's idea and the sort of all-in devotion USA has shown to Mr. Robot. In a rare though not unprecedented move, USA ordered the second season of Mr. Robot before a single episode had aired. It also launched a months-long marketing campaign on behalf of the series, treating it more like a feature-film release than a TV show — right down to screenings at South by Southwest and the Tribeca Film Festival. McCumber says seeing the pilot for the show last fall was a turning point. "We all said, 'Wow, we have something special here,' from the acting to the way it looked, so cinematic. That's when we decided we need to get this in front of as many people as possible."
Not too long ago, getting a new USA Network show out to as many people as possible was a pretty straightforward proposition: The network could simply schedule it behind one of its biggest hits, and 5 million or more folks would almost automatically tune in. But in the era of DVRs and VOD, even USA's biggest hits draw much of their audience well after their initial telecast on the network — and on-demand viewers don't have the option of staying tuned for the new show. Likewise, because Mr. Robot is such a departure for the network, it was hardly a given that the fans of, say, Royal Pains would have much interest in USA's new direction. McCumber and his team opted for a saturation approach, making the Mr. Robot pilot omnipresent: "We did a four-week run across every known nonlinear platform, including Facebook," he says. More than 3 million people caught at least part of the pilot before it bowed on the network proper.
While that didn't result in any sort of record-breaking ratings, it did allow Mr. Robot to cut through the summer clutter. "One of the biggest effects of prereleasing Mr. Robot on every platform imaginable before we aired was that we got early critical reviews of the show," McCumber says. "And that started building the buzz. We also won the audience award at South by Southwest, and we premiered as an official selection at the Tribeca Film Festival. And all of that had a snowball effect." Indeed, until this weekend's premiere of Fear the Walking Dead, Mr. Robot was the top-rated new drama of the summer among viewers under 50. It's also been overperforming on cable-VOD platforms, and — though USA doesn't completely love this factoid — the show ranks behind only Game of Thrones and True Detective as the most-pirated series on cable.
Still, it would be a stretch to call Mr. Robot a blockbuster hit — at least by traditional metrics, and by USA's own past track record with summer series. Counting DVR plays, new episodes are bringing in a solid but not spectacular 3 million viewers each week (with nearly half of that audience comprised of adults under 50). It's doing much better than fellow newcomers such as AMC's Humans or the FX comedy Sex&Drugs&Rock&Roll, and it's significantly outperforming USA's third-year drama Graceland*. But McCumber, like most of his colleagues these days, believes in looking beyond Nielsen numbers when measuring a show's performance and value to a network. "As we're looking at how a show finds an audience now, we have to recalibrate what we think of as a successful rating or not," he says. "You have to look at all different platforms and viewing habits. We don't just look at a live or live-plus-three rating. We look at, where is the audience watching this? Especially for a show like Mr. Robot, which is our youngest-skewing show." That's one reason why USA decided to order season two of Mr. Robot before seeing ratings: The network realized it needs to make long-term investments. "You have to find shows that are unique and stand out, and then measure all the different platforms, even if right now we can't monetize them," he says.
This is not to say Mr. Robot is somehow struggling to fit in on USA. Because of the buzz around the show, as well as the composition of its audience — it's USA's youngest-skewing program right now — McCumber says advertisers are rushing to buy time on the series. "It's a hot property right now," he says. "We have more demand than we can handle for Mr. Robot, and it's bringing in new advertisers." And much the same way Spike grew beyond its young male base with spring hit Lip Sync Battle, "We've expanded the reach of the network and brought in new people who haven't sampled USA before," McCumber says. One thing that's surprised USA execs just a bit: Despite being different from the network's usual shows, there's evidence Mr. Robot hasn't completely alienated the network's base audience. "It was actually more broad than we thought it would be," McCumber says. "The crime audience that watches us for Law & Order: SVU is into the show because it is kind of a cyberthriller. They like the fact that, even though it's a serialized show, every episode has some sort of mission to accomplish or something to solve, whether it's trying break out of jail or hack in somewhere."
As encouraging as Mr. Robot's season-one performance has been, McCumber doesn't seem ready to declare victory, either with the show or with USA's attempt to evolve its brand. Like most networks these days, USA will use the months between the first and second seasons of Mr. Robot to build a bigger audience. "The job right now is to keep Mr. Robot in the public eye as much as possible," he says. "People are still in the discovery mode with it. We need to get it in front of people and make sure they are discovering the show." To that end, USA will rerun season one of Mr. Robot on its own air, and on other platforms, with a sizable marketing push to tell people where they can catch up. (A deal with Amazon, Hulu, or Netflix also seems logical and likely, though McCumber declined to comment on any such possibility.) Looking ahead to next season, McCumber hints that USA is open to new ways of convincing viewers to watch Mr. Robot in as close to real time as possible while also serving the network's advertiser clients. "We're looking at whether there's a way for us to do a viewing experience that is sponsored but has less commercials, and maybe no commercials?" he says. "We did that when we released the pilot."
The other challenge ahead for USA: leveraging the massive buzz around Mr. Robot to prove both to viewers and potential showrunners that Esmail's genre-busting series wasn't just some random bug that briefly messed up the network's blue-sky machine. On the consumer front, USA has already begun heavy promotion for the Carlton Cuse–produced futuristic thriller Colony, debuting in January, and is working on a campaign for next year's Queen of the South, which McCumber describes as a "female Scarface." "At their core, both of these shows have this rebel with a cause, the unlikely hero," he says. As for the creative community, McCumber says he and his team will continue to "be very clear about what we want to do," pointing to the network's very public commitment to Mr. Robot as a sort of calling card. "Having the critical acclaim and having everybody talking about Mr. Robot certainly helps us," he says. "It sends a clear signal that USA Network is looking for programs that are unique."
* An earlier version of the piece stated that Graceland was in its second year. It is in fact in its third.