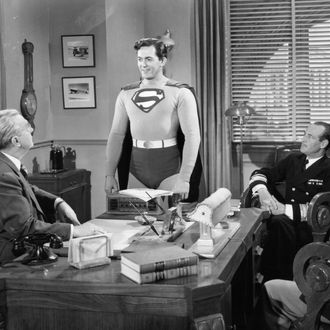 Superman, you really have to watch the property damage.
Photo: Archive Photos/Getty Images
What do you do when you no longer have The Office? You add in some superheroes! NBC has ordered Ben Queen's (of the short-lived A to Z) pilot for Powerless, a workplace comedy featuring characters from the DC Comics universe at "one of the worst insurance companies" in the U.S. Deadline reports that DC tentpoles such as Batman and Superman likely won't be main characters. Instead it'll be regular, white-collar workers like you and me who argue endlessly with Superman about his insurance premiums. Hope you loved the first act of The Incredibles!