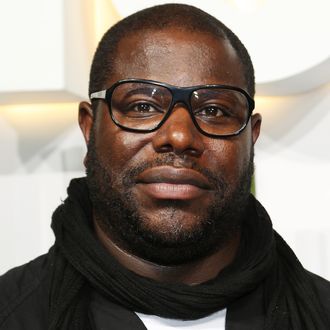 Photo: Monica Schipper/Getty Images
Steve McQueen has been a busy man. As if his HBO mini-series Codes of Conduct and his nine-minute short film for Kanye's "All Day/ I Feel Like That" weren't enough, McQueen has also been working on a BBC mini-series. While speculation regarding the series has been percolating for a while, few details have emerged since the project was announced in 2014. McQueen was slated to begin work on the series after he wrapped up Codes of Conduct, according to reports from March. The BBC series chronicles the lives and plights of black Britons living in West London, beginning in 1968 and spanning several decades and generations.
Speaking at the Guardian Edinburgh Interational TV Festival, BBC One exec Charlotte Moore recently disclosed that the series will begin with conservative politician Enoch Powell's infamous"Rivers of Blood" speech, which criticized Commonwealth immigration and anti-discrimination legislation. Powell referred to the speech as his "Birmingham Speech," but the more visceral title, derived from Virgil's Aeneid, has proven to be more lasting. The speech includes the line, "As I look ahead, I am filled with foreboding; like the Roman, I seem to see 'the River Tiber foaming with much blood,'" referencing the poem. Another notorious line:
We must be mad, literally mad, as a nation to be permitting the annual inflow of some 50,000 dependants, who are for the most part the material of the future growth of the immigrant descended population. It is like watching a nation busily engaged in heaping up its own funeral pyre. So insane are we that we actually permit unmarried persons to immigrate for the purpose of founding a family with spouses and fiancées whom they have never seen.
The speech allegedly spurred hostility and violence. Early versions of the Beatles' "Get Back" included scathing references to Powell and his speech. You can watch Powell discuss his speech in an interview from 1969 below.
McQueen's series will subsequently depict the Mangrove, a restaurant in Notting Hill opened by Trinidadian activist Frank Crichlow in 1968. (Frequent customers included Jimi Hendrix, Bob Marley, Nina Simone, and Vanessa Redgrave.) The Mangrove became a target of relentless police raids, which eventually resulted in violent protests. McQueen called the stories of the West Indian community at this time "passionate, personal and unique. They are testimony to the truth of real lives and urgently need to be told. This is about a legacy which has not only made my life as an artist possible, but also has shaped the Britain that we live in today."