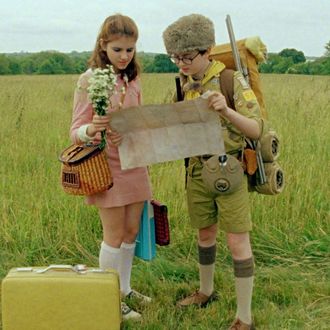 At the beginning of (and throughout) every month, Netflix Streaming adds new movies and TV shows to its library. Here is a quick list of several that you might be interested in. Some of these may also have previously been on Netflix, only to have been removed and then added back. Feel free to note anything we've left out in the comments below.
Pretend summer never ended: Moonrise Kingdom (2012)
Wes Anderson's ode to young love and symmetrical compositions will hit streaming right as the weather changes and summer turns to fall. Here's your chance to enjoy some quality time with the all-star cast of Anderson's summer-camp dramedy, and also a few cute kids. Available September 16.
The one Netflix wants you to watch: Longmire (Season 4)
Netflix recently rescued this stylish contemporary Western from cancellation at A&E. Longmire had a dedicated following on cable, but it never managed to hit big in the 18–49 demo. It was more valuable to Netflix, however, as the site cares less about advertisers and can use this renewal to appeal to a wider range of viewers. If you haven't heard about Longmire, it's better than you expected, with fun performances from Katee Sackhoff and Robert Taylor. (If you have heard of Longmire, congratulations, the wait is almost over.) Available September 10.
Please don't watch on your iPhone: Lawrence of Arabia: Restored Version (1962)
Listen, we know you want to watch Lawrence of Arabia, and we know it might be tempting to get through its three-hour-and-48-minute running time by streaming it bit by bit on your phone — on the train during your commute, while eating breakfast, in bed to distract yourself from your snoring partner, or perhaps to escape the terrifying feeling of being alone. Don't. Get a projector. Invite friends over (or make friends, by telling them you have a projector). Then you'll truly appreciate the majesty of David Lean's epic, and you'll be able to say you watched Lawrence of Arabia the right way. Available September 1.
From the terrible naming convention department: Rambo: First Blood (1982), Rambo: First Blood Part II (1985), Rambo III: Ultimate Edition (1988)
Sylvester Stallone is supposedly prepping for the next Rambo sequel, but until that comes out, you'll have to rely on the already extensive Rambo discography for your supply of Sylvester Stallone–beating-up-people footage. Don't worry. There's plenty to go around. All available September 1.
TV catch-up: The Walking Dead (Season 5), The Blacklist (Season 2), The Fosters (Season 3), The League (Season 6), Gotham (Season 1), and more
Netflix's gets its latest shipment of last season's TV shows just weeks before most of them start up their new seasons. Since we are living in the era of "too much TV," we can't endorse the decision to catch up on every show offered here — maybe pick just one or two? — but we're glad that Netflix continues to fuel our collective TV FOMO by making it all available. Different shows available at different dates throughout September. Full list below.
Biggest time-suck: Person of Interest (Seasons 1–4)
Perhaps because it airs on CBS, Person of Interest hasn't yet gotten the credit it deserves for its radical portrayal of massive government surveillance. The series' first season features a plotline that foreshadowed the Edward Snowden leaks, and its more recent episodes have dealt with the consequences of hyperpowerful artificial intelligence.
If you loved Mr. Robot but were bummed by its brief ten-episode season, then a 90-episode, 67-and-a-half-hour binge of this might cure your craving for techno-paranoia — or simply reinforce it. (Seasons 1–3 available September 1; season 4 available September 22.)
FULL LIST OF NEW TITLES
NEW SEASONS OF TV:
September 1
72 Dangerous Animals: Australia (Season 1)
Arthur (Season 17)
Battle Creek (Season 1)
Da Jammies (Season 1)
Los Hombres También Lloran (Season 1)
Mister Rogers' Neighborhood (Volume 1)
Mouk (Season 1)
Person of Interest (Season 1­3)
Puffin Rock (Season 1)
The League (Season 6)
Zoo Clues (Season 1)
September 4
Baby Daddy (Season 4) (New episodes)
Madame Secretary (Season 1)
Melissa & Joey (Season 4) (New episodes)
September 7
Space Dandy (Season 2)
September 10
Fugitivos (Season 1)
Longmire (Season 4)
September 12
Portlandia (Season 5)
September 13
Comedy Bang! Bang! (Season 4) (Part 2)
September 14
Call the Midwife (Series 4)
September 15
Kambu (Season 1)
Sin Senos no Hay Paraiso (Season 1)
Zoobabu (Season 1)
September 16
The Blacklist (Season 2)
The Fosters (Season 3)
September 17
The Mysteries of Laura (Season 1)
September 21
Gotham (Season 1)
The Following (Season 3)
September 22
Person of Interest (Season 4)
September 25
Blue Bloods (Season 5)
Hawaii Five-­0 (Season 5)
Parenthood (Season 6)
VeggieTales in the House (Season 1) (New episodes)
September 27
The Walking Dead (Season 5)
September 29
Bones (Season 10)
September 30
Agatha Christie's Poirot (Series 12)
Murdoch Mysteries (Seasons 4­7)
NEW MOVIES:
September 1
Avengers Confidential: Black Widow & Punisher (2014)
Blackbird (2014)
Capital C (2014)
Combustion (2013)
Divorce Corp. (2014)
Giggle and Hoot's Best Ever! (2014)
Hamlet (1990)
Hardball (2001)
Heather McDonald: I Don't Mean to Brag (2014)
Lawrence of Arabia: Restored Version (1962)
Masters of the Universe (1987)
Mississippi Damned (2009)
Our Man in Tehran (2013)
Pandas: The Journey Home (2014)
Rambo: First Blood (1982)
Rambo: First Blood Part II (1985)
Rambo III: Ultimate Edition (1988)
Shake the Dust (2014)
Sleepy Hollow (1999)
Such Good People (2014)
The Adventures of Sharkboy & Lavagirl (2005)
The Monster Squad (1987)
Up in the Air (2009)
Zathura (2005)
September 2
Black or White (2014)
Miss Julie (2014)
September 3
Drumline: A New Beat (2014)
September 4
Bad Night (2015)
September 8
6 Years (2015)
Love at First Fight (2014)
September 9
Teen Beach Movie 2 (2015)
September 11
About Elly (2009)
God Bless the Child (2015)
Madame Bovary (2014)
September 12
It Happened Here (2015)
The Roughnecks (2014)
Why Did I Get Married? (2007)
September 13
Pixies (2014)
September 15
Closer to the Moon (2015)
Cowspiracy: The Sustainability Secret (2014)
Rubble Kings (2015)
The Bank Job (2008)
The Road Within (2015)
September 16
Moonrise Kingdom (2012)
Reservation Road (2007)
September 18
Keith Richards: Under the Influence (2015)
September 22
Philomena (2013)
SMOSH: The Movie (2015)
September 23
The Loft (2015)
September 24
Iris (2014)
September 26
The Canyons (2013)
September 29
Mandela: Long Walk to Freedom (2013)
Monster High: Boo York (2015)
RL Stine's Monsterville: Cabinet of Souls (2015)

September 30
Leafie: A Hen Into the Wild (2011)
Midnight's Children (2012)
Ned Rifle (2014)